In the year 1914, a Parsi lady named Fenibai came to Shirdi with her young son Kavas.
The boy was as beautiful as Lord Krishna. One would feel that Lord Krishna had come to the earth leaving the heaven in this Kaliyug by seeing his curly hair and black eyes. When Fenibai went to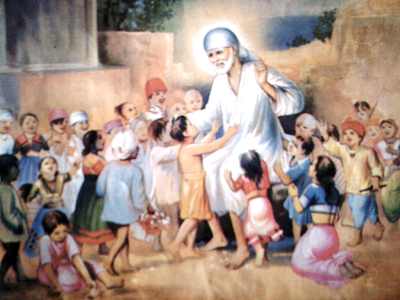 Dwarkamai with her son, Sai Baba said, 'Sister, please dont take any step outside the Dwarkamai without my permission.' Then he asked her to keep the young boy on his Gadi (mattress).
The Noon Arti was over now, Udi and Prasad was distributed, everyone present there went for lunch to their respective places. The Darbar of Sai Baba seemed to be empty now which was crowed by many people few minutes ago. Now the curtains of the Masjid were down, Sai Baba started His lunch. But the lady did not get the permission to go, so her impatience started to grow.
Sai Baba finished His lunch. He came to the threshold of Dwarkamai. Shama (Madhavrao Despande) washed His Hands and gave Him a towel to wipe His hands, Sai Baba then again came to His Gadi and sat on it. Radhakrishnamai sent Paan for Baba and He lovingly accepted it. Now Fenibai started massaging Sai Baba's legs.
Sai Baba knew all past, present and future, so He did not allow Fenibai and her son Kavas to leave Dwarkamai. Exactly at 3:00 P.M. a sound came as if someone had jumped on the wall of Dwarkamai. Fenibai got a glimpse of it. As a cow starts trembling in front of a lioness, Fenibai was trembling in the same way.
A woman with dangerous face had jumped on the wall of Dwarkamai. Her hair were tangled, she had big frightening eyes, both her hands were very thin and long, the nails of all her ten fingers were long, her body was dark as it was a mountain of Kajal (carbon black). As soon as she jumped from the wall, she ran to snatch away Kavas.
The one whom fear also fears, such Sai Baba now showed His terrible form with eyes burning eyes, He shouted 'Saboor'. But the witch did not listen to Him and proceed further towards innocent Kavas.
Sai Baba stood up from His Gadi and kicked off the witch. The witch went away screaming. No one knew where she went. Kavas saw everything with his eyes. But he never knew that he was alive due to the presence of Sai Baba and so no one could harm him.
Source : Translated from Gujarati Book "Sai Sarovar"
© Shirdi Sai Baba Life Teachings and Stories