In the year 1913, during the summer season, fire was being showered from the sky, warm winds were blowing, no one could be seen in the lanes of Shirdi, cattle had gathered under the banyan tree. Sai Baba was sitting in Dwarkamai near Dhuni staring at it as if in meditation without any movement. In the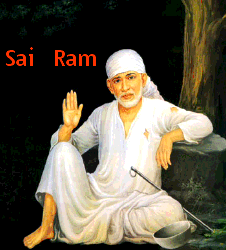 mean time, a frightened puppy came panting and running towards Dwarkamai and hid itself behind Sai Babas pillow.
One day a big dog chased that puppy. If that dog would have been successful in catching it, then it would have bitten the puppy at its neck and killed it. But luckily the puppy escaped. From that day, the puppy got scared, if it saw any big dog. The moment it saw a big dog, it started barking loudly at it. Seeing this village people started thinking the puppy was suffering from rabies. So the villagers took whatever came in their hands and ran after the puppy to kill it. Thus the puppy reached Dwarkamai panting and in frightened condition.
The crowd of villagers reached Dwarkamai and told Baba to take that puppy out, as it was suffering from rabies and it may result in somebodys death.
Sai Baba answered, This Dwarkamai removes the fear of those who sought refuge to it. This Dwarkamai loves those who come to its refuge. Dwarkamai never rejects any soul, who comes under its shelter, even if it has committed thousand sins. As soon as one comes to this Dwarkamai, all their sins are buried to ashes. Whosoever neglects its refuge only for selfishness, they are the biggest sinners of the world. You are ready to kill a dumb animal, this shows your cruelty. Go, go and do your own work. The crowd disappeared on hearing Sai Babas words. After some time the puppy came out and started playing fearlessly on the threshold of Dwarkamai. In this way Sai Baba narrated a story of Puran.
Source : Translated from Gujarati Book "Sai Sarovar"
© Shirdi Sai Baba Life Teachings and Stories