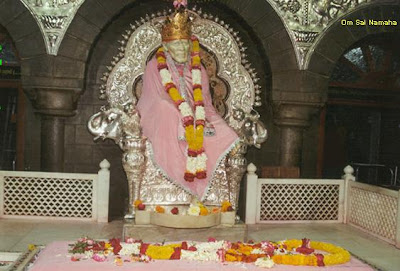 Today when I started to write something after a long gap, I was reminded of an incident which seems to be worth sharing being Baba's Day. Though I had informed in one of my earlier posts that I will not be able to translate articles from
Sai Sarovar
due to my exams, but still if Shirdi Sai Baba wishes the posts will not stop. With the His grace only there was not a single day when there was no post. I received mails from many devotees, who shared their
experiences
to be posted on the blog. My hearty thanks to all for their
contribution.
Every alternate day, I am posting a write up or experience on this blog and a Sai Baba bhajan on other blog. Yesterday an experience of devotee has already been posted on this blog and today is the turn for a bhajan. But I will not go for it. Instead I would like to share with you one of my own experience which also includes Mrs. Sasikala Ravivenkatesan, being Baba's day. The title of the post does not suggest it to be an experience; it is very apt which one can understand after reading the whole incident.
Few days back (or say just a month ago), I was introduced to Mrs. Sasikala Ravivenkatesan. We both share a common Shirdi Sai Baba yahoo group, so we came in contact. There is a link on this blog where one can ask questions to Shirdi Sai Baba and receive answers from Him. She must have also visited that website and asked some question of Shirdi Sai Baba. In the answer she was ordered to give a pink dress to a favourite person of her. The same she asked me about my favourite colour while chatting. I wrote lavender and pink. Though I like black, maroon and lavender, why I wrote Sai Baba knows very well and it is revealed to me later. She told that she had guessed it correctly. To this my answer was plain ok. I thought it to be a casual conversation and so I did not correct myself here and went ahead. Then she started asking me which type of cloth I prefer to wear and such sort of questions. I answered her. In the end she disclosed that Shirdi Sai Baba had told her to give a pink dress to her favourite person and she had chosen me.
I was just surprised and requested her not to take any pain for me. She refused saying it to be a direct order from Shirdi Sai Baba. At last I had to accept what she wanted. I considered it to be Sai Baba's wish as He has balance sheet of good and bad karmas and He very well knows what is good for me. She purchased a beautiful pink dress and informed me. Here is would like to clarify that I was never ever attracted to pink coloured outfits and so I don't have any of this particular colour. But as it was Sai Baba's wish I did not have anything to say. Again next day she said me that she had exchanged that pink dress with a maroon one. I thanked Sai Baba mentally for taking care of my favourite colour. She even bought matching earnings of maroon colour. On the day of dispatch, something went running up in her mind and she again exchanged that maroon dress with another pink one. Thus, she sent me a pink dress, maroon earrings and a pair of black coloured crystal stone anklet. Oh what a colourful Sai incidence!!! One colour of Sai Baba's choice and other two of my choice.
All this was not known to Mrs. Sasikala Ravivenkatesan, I remained silent as I was fully aware of her feelings towards me and did not want to hurt her. After receiving her gift (rather Sai Baba's gift) I told her everything. She too accepted it as Sai Baba's wish and was very happy. Sai Baba never takes credit on Himself. In this case too He was behind the scene, just to watch us acting on the stage, created and maintained by Him. Pink colour is considered as sign of love, colour of love and Sai Baba has showered His love on me in this way. Sai Baba used to say that materialistic things are prone to destruction one day, but if they are given by Him, its value, divinity and purity can be measured on any scale of the world. Even if His gift is in material form, I cannot measure its worth.
I prostrate at the feet of my Sadguru and my hearty thanks for the lovely Pink Dress !!!

© Shirdi Sai Baba Life Teachings and Stories