Today is Poornima or full moon day of Magshirsh month of Hindu Calendar and it is celebrated as Lord Datt Jayanti. Our beloved Sai Baba is an incarnation of Lord Dattatreya according to Sai Satcharitra. My salutations to Dattatreya Who in the beginning is Brahma the Creator, Who in the middle is Vishnu the Preservor and Who in the end is Shiva the Destroyer. Before proceeding to the stories of Sai Satcharitra related to Lord Dattatreya, I would narrate the story of how Lord Dattatreya incarnated.
Lord Sai Dattatreya descended into the realm of the world as progeny of Atri and Anusuya, a sage couple of the Vedic age. Seer Atri was one of such seers who had 'seen' and experienced the Brahma Gyaan, the eternal wisdom; and Anusuya became famous for her devotion to her husband. She was the embodiment of chastity.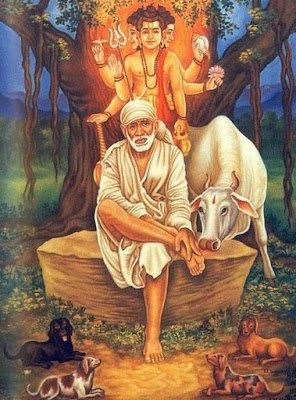 One story tells that once a Brahmin named Kaushik was staying in a town called Pratishthan. He used to go to a whore in spite of being a Brahmin and having a devoted wife Nalayani. Later, he suffered from leprosy and was thrown out by the whore. Then, he came back to his wife, who accepted him still. However, he still did not care for his wife, and was thinking about the whore all the time. Once day, he asked his wife to take him to that whore. In that town, the sage Mandavya had been spiked instead of a real thief; and he was lying on the spike in the forest. While walking through the deep forest in the night, Kaushik happened to hit his leg by mistake to Mandavya sage, who cursed him to death before sunrise. To stop the curse, Kaushik's devoted wife, with her powers of austerity, restrained the sun from rising, upon which all the activities ceased, and created havoc. The Gods, alarmed by this, went to Lord Brahma for counsel. Lord Brahma said, "Majesty is subdued by majesty indeed, and austerities also by austerities. Through the might of the faithful wife, the sun does not rise; and from its not rising, loss befalls mortals and you. Hence, if you desire that the sun should rise, propitiate Atri's faithful wife Anusuya, who is rich in austerities." Having been so instructed, the Gods sought the help of the wife of the sage Atri. When they submitted their desires, she replied, "The might of a faithful wife may not be lost in any wise. Hence, while honouring that good lady, I will liberate the day"., and requested Kaushik's wife to let the sun rise. At Anusuya's exhortation, Nalayani relented; the sun rose, and Kaushik died; but he was restored to life by the virtuous Anusuya.
Then, there fell a shower of flowers, accompanied with the strains of heavenly instruments and other musical instruments. The Gods were delighted and said to Anusuya, "The Gods will be pleased to grant you a boon, O ascetic lady! Therefore choose a boon!" Anusuya spoke, "If Gods headed by Brahma, being favourable, will grant me a boon, and if I am worthy of a boon, then let Brahma, Vishnu and Shiva become sons to me, and let me in company with my husband attain religious devotion, to the end that I may be delivered from affliction.
Another story tells that such was the spiritual power of Anusuya, which induced jealousy and envy in others. Once, sage Narada poisoned the mind of the three Goddess Saraswati, Laxmi and Parvati by telling them that Anusuya was much greater than them. Incensed by this, they requested their husbands to go and violate Anusuya's Pativrata Vrata. However, the three Gods Brahma, Vishnu and Shiva decided to prove their jealous and envious wives, how wrong they were.
They transformed themselves, into mendicants, approached the hermitage of sage Atri and begged for alms. At that time sage Atri was away at the river offering his daily oblations. Anusuya came out and offered food to them. They made a strange request; the food be prepared and served to them by Anusuya, in the nude. In the Indian tradition any 'Aithi' i.e. guest cannot be turned away, as he is considered to be an aspect of God. Hence, she was placed in a dilemma. She smiled to herself and reflected thus, "I am totally purified by the long association with the Holy Sage Atri. What harm can the God of lust ever do to me? So, I do fear nothing. As they sought food from my hand, I look upon them as my children and not strangers and grown up men!" Her thoughts – the thoughts of a pious and chaste person – instantly became reality; the elderly guests became babies!
Sage Atri, on his return to the hermitage, saw his wife Anusuya fondling three babies. Anusuya said, "These children are the gift of God to us, who have been childess so far". Sage Atri was overjoyed and named them Datta, which means 'given'. At this, the three Gods reverted to their real forms and disclosed the truth. They extolled the power of chastity and purity of Anusuya, which vanquished the combined and colossal powers of all the three of them. Sage Atri and Anusuya prayed that they should remain as their sons. They consented and the three Gods merged into one body. This is how Lord Dattatreya incarnated.

There are many events narrated in Sai Satcharitra in various chapters which narrates that Lord Sai is an incarnation of Lord Dattatreya. In fact they are one and there is least difference between them. Here it shall be delightful to recall the story of the gentleman of God, who was a Datta devotee and came to Shirdi to fulfill his vow given to Lord Datta. Sai Baba demanded dakshina of Rs. 15 from him which he promised to give to Lord Datta. In fact, the gentleman had once gone to Goa in search of a job for himself and had taken a vow to Lord Dattatreya that if He blessed him with an employment, he would offer Him his first month's salary. Although by the grace of His Lord Dattatreya, he got an appointment with a salary of Rs. 15 per month, yet he did forget to keep his word. Sai Baba reminded him of his vow and recovered Rs. 15 from him. It was, in fact, not Dakshina as one may think it to be, but a realization of an old debt and fulfilment of long forgotten vow. Sai Baba who being the Incarnation of Lord Dattatreya was the rightful claimant of that amount of money. (Chapter 36 of Sai Satcharitra).
Even more fascinating is the other story of an ardent devotee Nanasaheb Chandorkar, who also had equal devotion for Lord Dattatreya. Whenver he was on his way to Shirdi, it was his usual practice to first make, even in his eagerness to reach Shirdi as early as possible, a visit to the Datta temple at Kopergaon! It so happened once that he arrived at Shirdi along with Biniwale, his brother-in-law (wife's sister's husband) skipping his salutations to Lord Dattatreya at Kopergaon, despite the fact that Biniwale too was an ardent Datta Devotee. On his reaching Shirdi, Sai Baba cautioned Nanasaheb against repeating the mistake in future – certainly to make him realize that the Datta temple was actually the turning point, where the devotee of Sai Baba could have His preliminary darshan (Chapter 38 of Sai Satcharitra).
Few similarities between Sai Baba and Lord Dattatreya which must be highlighted are : Lord Dattatreya appears with a Jhola (a long bag) hung on His shoulder and so is Sai Baba always seen with a Jholi. Lord Dattatreya had all the powers of God viz creation, preservation and destruction and so has Sai Baba. Lord Dattatreya lives like a Fakir (beggar) and so did Sai Baba. Both lived by begging alms and in turn took all sins of Their devotees. I bow to Lord Sai who is one with Lord Dattatreya !!!

© Shirdi Sai Baba Life Teachings and Stories