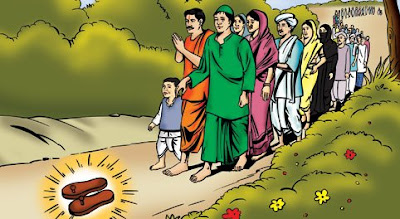 Recently there was a post about details regarding train to Shirdi. Also a video was posted covering Shirdi Station and platform scenes. Here is the latest update on same topic.
27 Feb 2009, 0330 hrs IST, Roana Maria Costa, TNN
MUMBAI: Thousands of devotees who flock to Shirdi to catch a glimpse of Sai Baba will be blessed with a direct train from Sunday. The train will leave CST at 10.55 pm and reach Shirdi at 10.30 am the next day.
The much-awaited service will be flagged off by Union railway minister Lalu Prasad. "The inaugural train will flagged off on Saturday at 3 pm. But it will be from Puntamba to Shirdi. Regular services will commence from Sunday," an official said.
"Putamba station is on the Manmad-Daund section of the CR. It is about 70 km from Manmad and about 20 km from Shirdi. Earlier, after reaching Puntamba the only way to get to Shirdi was by road. With the completion of the Puntamba-Shirdi rail project, pilgrims will be able to reach Shirdi without any break in journey," said chief PRO, CR, S C Mudgerikar. Initially, there would be just one service per day. "But depending on the demand, we can increase services subsequently, " he added.
Even though the project was sanctioned in 2000-01 at a cost of Rs 30.22 crore, its execution got delayed. "Getting land from the state government took longer than expected," an official said.
Shirdi station will include two waiting rooms and a dormitory. "The building is aesthetically designed with a touch of local architecture. It will have a 500 metre-long platform to accommodate a 22-coach train," an official said. The entire project has been completed at a cost of Rs 78 crore.
From CST to temple town – About 12hours
Route – CST- Dadar- Thane- Kalyan- Pune- Daund- Ahmednagar- Puntamba-Shirdi
Distance – 457Km
Halts – 22
Bookings for the first train From Saturday 28th Feb'2009
Average ticket prices – Rs 130
Station to shrine – A 10-minute walk – Sainagar Shirdi railway station, just 2kms distance from Shri Sai Samadhi Temple, Shirdi, Maharashtra.
Routes planned –
Igatpuri – Nasik – Manmad – Puntamba – Shirdi – CST – Manmad – Puntamba – Shirdi
Coach composition – 1. AC three – tier,
2. three-tier non-AC,
3. general seating compartments
4. luggage-cum- seating compartment
Timings – Leaves CST at 10.55 pm reaches Shirdi at 10.30 am
Return train: Leaves Shirdi at 4.40 pm, reaches CST at 4.25 am
Source :  http://timesofindia.indiatimes.com/Mumbai/From-Sunday-Sai-devotees-can-take-a-train-to-Shirdi/articleshow/4197980.cms 

© Shirdi Sai Baba Life Teachings and Stories