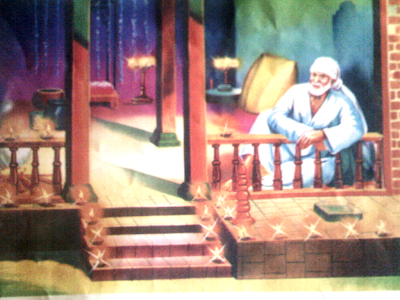 Some of the Sai devotees have stayed loyal to their devotion for the span of their entire life. Prominent amongst them is Muktaram.
He originally belonged to Khandesh. His house was about one and a half mile from Raver. He first came to shirdi around 1910-11. After passage of some time, he gave up the land he woned, his house, mother, wife and children (Sarva-Sang-Parityag) and moved permanently to Shirdi to be near Baba. Baba gave him the name 'Muktaram'.
At that time, there was another Sai Devotee in Shirdi who was walking on the path to Vikrati. His name was Balaram alias Balakram Mankar. Muktaram started spending his time in the company of Balaram. Baba was guiding these two on their Adhyatmik (spiritual) progress and was not willing to make these wto sit in Shirdi only. He made them undertake travel to various areas. But, Shirdi was the central point for all their journeys and from time to time t hey returned to Shirdi.
In planning tehir return to Shirdi, Baba had the intention of giving them Adhyatmik guidance as well as achieving their Aatmavikas (self-development).
From 1914-15, Muktaram moved his residence permanently to Shirdi. He spent his maximum time around Baba. He sat near the Dhooni in the masjid. His practice was to arrive in Dwarkamai in the early morning and continue there upto the Arti at the noon. He took his breakfast and lunch along with Baba. He managed with whatever food that Baba gave him.
After lunch, as directed by Baba, he used to move to a small tin-shed adjacent to Dixit Wada. He had kept a Dhooni incessantly burning there. As per instructions of Baba, he stayed near this Dhooni till Baba asked him to come out. Even in scorching heat of summer, he continued to sit for hours together near the burning Dhuni in the small tin-shed. People around him wondered, how he is able to bear the heat. The reason was the power he had gained from his staunch devotion. Muktaram was thus incessantly trying to turn his Antarang and Bahya-rang twards the path of Almighty. His only aim in life was to live in the way shown by Sadguru.
Baba had given him a Kafni and a cloth to tie around his head and that was his daily attire. There was a resemblance in his way of living, style of speech and gestures and those of Baba. However, some people thought that he was imitating Baba and therefore, the respect that they felt for Muktaram gradually gave place to misunderstanding and hatred. This got expression in some of the articles published as well as stories circulated about Muktaram.
There are two distinct versions of the event immediately before Muktaram's death. One version shows his in a rather bad light while other one clears the air.
A few examples of former type appear in Sai Satcharitra as well as in a magazine called 'Shri Sainath Prabha'. The magazine began publication in 1916 from Pune and Shri Sunderrao Narayan was its editor. The magazine was managed by Daxina Bhiksha Sanstha of Raobahadur Hari Vinayak Sathe.
Some of the stories which show Shri Muktaram in bad light are:
1. Muktaram felt that he ia able to copy the ways of behaviour of Baba. Therefore, after Baba took Mahasamadhi, he started feeling that he could take the place of Baba. Slowly, there came a change in him. One day, he sat on the mattress (near the railing), on which Baba used to sit. Many senior devotees prostrated against this; but he replied, "It is Baba Himself Who has asked me to sit on this mattress. I am His heir." However, in a short while, he felt as if pins were pricking him from below and blog started oozing out. He vacated the seat and moved to another place. But the pricking and blood continued. In about 7-8 days, he laid down his life in great pain, but after seeking forgiveness of Baba.
2. A similar story appears in the Don Shadbad (two words – or foreword) to Sai Satcharitra in Marathi. It says that two days after Baba took Mahasamadhi, Muktaram went and sat on Baba's seat in Dwarkamai. Thereafter, he died a painful death as narrated above.
3. The moment Muktaram's feet touched the seat of Baba, he had an unbearable pain in his stomach. Later on no medicine or remedy was unable to help him. He prayer before the seat of Baba for forgiveness; but to no avail. After two day, he died a painful death.
It was but natural that anyone who heard or read stories of these versions would see Shri Muktaram in a bad light. To dispel the misunderstandings and bad publicity, one of the Sai Devotees wrote a detailed letter to the editors of 'Shri Sainath Prabha' under the pen-name of Mitra (friend) which was published in April 1919 issue of the magazine. It is reproduced below:
"After reading an article titled 'Shri Sainath Maharajanchya Akhyayika' (legends of Shri Sainath Maharaj), I had certain thoughts which I feel it necessary to communicate to you and hence, this letter.
The story published therein relating to the death of a devotee named Mutaram is not factual. About three months prior to Sai baba took Samadhi, Muktaram was not keeping well. He was suffering from fever and cough. Since he was ill, he laid down in his room. About 8-9 days after Baba took Samadhi, he went to the Masjid; but returned to his room in less than 24 hours. He did not sit on the mattress near the railing and also did not place his hand on the railing like Baba used to do. He sat still on a gunny sack near a pillar somewhere near the middle.
Several people thought that it was Muktaram's plan to sit in Dwarkamai like Baba used to do and this writer is one of such people. However, as Muktaram soon returned to his room, all doubts were cleared.
After he returned to his room, this author posed him a direct question, 'Why did you go to the Masjid and then, why did you return?' He replied, 'As I am not feeling well, I am very much harassed person. I thought that if I sit in the Masjid and pray to Baba, I may get some relief . However, it was not possible for me to sit there for long. Further, there was the problem of spitting out cough from time to time. Therefore, I returned back to this room to lay down.'Later on, from the month of October, his health started deteriorating rapidly and after about two to two and half months he died of TB in January, 1919.
Secondly, the article published in your magazine is likely to create an impression that Shri Baba was very cold hearted. However, this writer and many other devotees have experiened that to the contrary that Shri.Baba was pesonification of Daya (kindness) and Kshma (forgiveness). He looked after His devotees like His own children. Punishment meted out to a wrongdoer was mild in nature."
The above letter was published by Shri Sainath Prabha and its editor even added that: "We had published in our previous issue an account of Shri Mutaram's death. It was penned by a senior devotee of Baba from Shirdi itself. We were only a medium for publishing it. We were not aware of Muktaram's earlier details. Our friend has furnished the missing information. We are grateful to this friend for the same."
The letter was also published by Shri Sai Leela and its editor stated that :
"The new devotees visiting Shirdi after Baba took Samadhi hear stories about earlier days and about earlier persons – which have traveled by word of mouth. It is necessay for the devotees in using their own judgement regarding credibility and reliability of such stories. Hence, we have published the above letter."
If a person gives somemore thought to the three stories appearing above, he is lilkely to come across some absurdities. There is some confusion about exact day on which Shri Muktaram is said to have visited the Masjid. The first story mentions it as 'one day' while the second and third stories mention 'two days' after Baba took Mahasamadhi. Thus, the exact day on which Muktaram went there is not clear.
In the first and second stories, the cause of Muktaram's death is given as "because he sat on the seat of Baba, he felt as if pins were pricking him from below, blood started oozing out and he died a painful death." However, in the third story, it is mentioned that "his stomach started having unbearable pains and he died of a swelling in his stomach." Thus the stories give conflicting reasons for his death.
The most important anomaly is about the time of his death. First two stories state that "he dies after two days". Third story says that "he died after two days". Thus the month of his death would be October 1918.
In reality he had gone to the Masjid 8-9 days after Baba took Mahasamadhi, he died in January 1919 and the cause of death was TB.
The letter writer was a witness to these events and had written the account in his own handwriting. This is sufficient to set at rest all guess-work about Muktaram's behaviour and death.
There are some incidents concerning Shri Muktaram which are worth mentioning here.
Whenever Annasaheb Dabholkar alias Hemadpant visited Shirdi, he stayed on the upper florr of Dixit Wada. His bedding would be kept below a window. Once, a snake came in from a whole in the window and entered Dabhokar's bedding. Everyone gathered sticks ect. to kill the snake. A person succeeded in hitting him; but he managed to escape by the same rout by which he had come. Muktaram, who was present there, said, "The poor animal would have lost its life. Good that he could escape from the hole."
Hearing this Dabhokar was furious. There was a verbal duel which lasted for a long time. Ultimately it was time to go to bed and the debate was given a rest for the time being. Next day Baba deliberately raised the topic, "What happened yesterday?" Dabholkar narrated the entire story and posted a question, "Should a person slay a snake at such times?" Baba replied, "There is a part of God in every human being as well as animal – may it be a snake or scorpion. Every one behaves as the Almighty asks him to behave."
Thus, Muktaram had propogated what Baba had taught and Baba fully supported his stand. This incident narrates how Muktaram's nature was different from others.
Another incident concerning Muktaram is how Baba made him a medium for constructing a temple at a town called Harda.
Shri Sadashiv Dhundiraj alias Sadubhaiya Naik of Harda once received a letter from Shri Kakasaheb Dixit. It was stated that 'Shri Balaramji and Muktaramji will leave from here on Monday 8th February 1915 and will reach Harda by same day evening by about 5 p.m. Muktaram's home is about one-and-half mile from Raver. There ia a large photo of Baba there. He has an urge to give this photo to you. Please send a person to meet these two of Harda station'.
Muktaram as a medium
Around the same time Honoray Magistrate Chhotubhaiya Parulkar (also a resident of Harda) had a dream and in it Baba said, I have come to Sadubhaiya's place. Come for a Darshan!"
After receiving Kakasabeb's letter, Sadubhaiya did not send any one to the station, but went himself. He saw Balram and Mktaram sitting in a compartment with the photo placed in between the two. He prostrated before Baba's photo, greeted Balaram and Muktaram and took them to his home.
It was the day of Dasnavami. A lot of people had gathered to welcome them. With great fanfare, evening Arti was performed.
Next day was Thursday. As guided by Balaram and Muktaram, a Pooja of the photo was performed with Rudrabhishek. Thereafter the photo was placed on a throne and Arti and Mantrapushpanjai were performed.
While the Abhishek was being performed , Muktaram climbed first on the balcony and from there on the roof of the house and hoisted a flag. Actually, the palce from where the flag post was tied was very precarious and if his foot had slipped, it was a sure call for death. Everyone was watching with bated breathes. However, within a batting of an eyelid, Muktaram accomplished the task and safely came down.
While Muktaram was hoisting the flag, here in Shirdi Baba's hands started severely aching. While Fakir Baba was pressing His hands, He uttered, "Garibonka Allah Malik Wali Hai. Allahase Bada Koi Nahi"
. (Allah is everything of the poor people. No one is bigger than Allah).
Here Baba's photo was installed at Sadubhaiya's place and same night in Jalgaon, Sadubhaiya's wife as well as cousin brother had following dreams.
His wife saw that Madhavrao Deshpande had come with a coconut, Khan (blouse piece) and packets of Haldi-Kumkum and said to her, "Baba has sent this Oti for you."
Sadubhaiya's cousin brother Shri Narayan Dadaji dreamt that he is standing in front of Baba and Baba is saying to him, We are going to Harda. You also come with us!" Bet he saw that both of them were standing on the banks of river Godavari. It appeared that the river had swelled with more water than was usual and where they were standing, nearby there were two gunny bags of wheat.
Baba asked Narayanrao, "How are we going to cross the river now?" But, suddenly, they appeared 10 Nandi Bail (holy bullock) carrying loads on their backs and a well-constructed road also appeared. Baba and the Nandi Bail accompanied Narayanrao from his house in Harda till the house of Sadubhaiya (where the flag had been hoised) and suddenly disappeared.
Thus Baba had established His Sansthan at Harda and for the purpode, he had used Muktaram as a medium.
In short, Muktaram wasa man who had embraced Vairagya.He had given up family life and bowed at the feet of Baba.He laid down his life in Shirdi and hid Samadhi was built in Lendi-baug in Shirdi.The people who initially had criticized Muktaram later on started paying respects to his Samadhi. It was Baba's desire to be so. Without it, nothing would have been possible.

© Shirdi Sai Baba Life Teachings and Stories