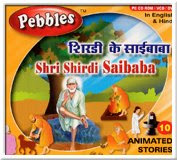 Pebbles proudly presents life story of Sri Shirdi Saibaba. Whenever there is a fall of morality and dominance of immorality, the God manifests himself for the protection of the virtuous. Sri Shirdi Saibaba is the leading incarnation of God teaching equality, brotherhood and love to society. These colorful stories with sound will definitely win the hearts of children as well as elders. We are sure that these stories will implant brotherhood and love for others in your heart.
There are in all 10 Stories included in this movie:Childhood
Name Sai
Passed away
Arrival at Shirdi
Daily Routine
Turning water
Ganga Jal
Saved Shirdi
Pervasiveness
Power of Yoga
Size:-5″ x 10″ Aprox
Playable in VCD/DVD/Computer
Saibaba-Animation Stories-VCD
Aprox.Wt.220gm
Rs. 99.00
LINK TO THE ABOVE – http://cgi.ebay.in/Shri-Shirdi-Saibaba-English-Hindi-Pebbles_W0QQitemZ190292079678QQihZ009QQcategoryZ88414QQtcZphotoQQcmdZViewItemQQ_trksidZp1742.m153.l1262
OR
http://www.saharacarehouse.com/productdetail.aspx?cproductid=13657
P.s – Purchase online at your own risk, I do not have any say or doing in the Web-sites mentioned above nor have I ever purchased anything from these Sites.

© Shirdi Sai Baba Life Teachings and Stories
Related Posts:
Details of Animated Movie of Sai Baba
Jagadguru Shri Shirdi Sai Baba Telugu Movie Details