We all love Sai Baba and our different actions signify this. We worship Baba at home, go to temple, donate food and money, try to feed poor and hungry. In a way we show off our love towards Baba by trying to follow His teachings. But little kids who are naturally drawn towards affection and warmth of love of Baba are far away from these boundaries of teachings and philosophies.
Little Sai devotee Kartikeya of eight years have reflected his love towards Baba in a sketch made by him.

The thing which touched me the most is combination of colours. Pink colour reflects love and this colour was gifted by Baba to me and since then it has always been close to my heart. Little Karitkeya has used this colour as main colour scheme. Baba's way of showerig grace and more importantly showing it to us in very very unique. This young boy made Baba's sketch in pink and I was allowed to post it here!!! Even more since I know him on personal terms, once he sang "Sai Teri Leela" bhajan which is our most favourite bhajan for me.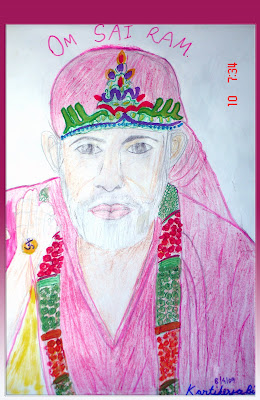 The sketch made by Kartikeya is simple and pure as his heart. Pencil, pencil colours and sketch pens were used, but resultant picture came out to be more awesome than any software generated picture. My hearty congratulations to him for his first picture and I pray to Baba to give him more creativity and patience to make many more good sketches and I will be pleased every time to post it here on my blog.

If you wish to pass on wishes to this young Sai Devotee, you can mail me on [email protected] or or can post comment to this post.
Please Note : To download all pictures in original size and format, just click on them.

© Shirdi Sai Baba Life Teachings and Stories