In our last post i had discussed at length Sai Baba's philosophy about wealth. Now in this post, we shall see Sai Baba's philosophy about food. This topic requires discussions on sub-topics such as non-vegetarian food, fasting, disregard for offer of food, always eating by sharing with others and food – the best charity one can give.
Non-vegetarian Food
Baba's teachings were quite revolutionary but were very true to their context and benefited society as a whole. As per Hindu/Jain/Buddha custom non-vegetarian food has been disregarded. It is the belief that one cannot attain the Supreme if he/she eats non-vegetarian food. This belief has been forwarded from past many generations. Baba Himself had full knowledge of Supreme Spirit or we can say that He was Supreme Spirit, but He never objected eating of non-vegetarian food nor He asked His devotees to stop consuming it. On the contrary, He Himself cooked non-vegetarian food in early years and it was given as prasad to Mhlasapati and Tatya Kote Patil before distributing it to others after getting duly consecrated by Moulvi (Muslim Priest) – Chapter 38.
This can be seen from two standpoints : First, He wanted to bridge the gap between Hindu and Muslims. His style of living gave an impression that He was a Fakir at first instance. So for a Fakir accepting non-vegetarian food seemed appropriate. Second, He wanted to spread a message that by only not eating non-vegetarian food, one cannot attain Supreme. Of course, it is an injustice on our part to kill innocent animals for the sake of our tongue which always has urge to get tasty food. This adds to our bad karma to some extent. Also by eating non-vegetarian food, attributes of passion and ignorance act as dominating character and this results into an hindrance in meditation. But it would not be correct to say that avoidance of non-vegetarian food opens doors of way to Supreme. If it was so then, gems like Mohammed Paigamber and Jesus Christ would not have born at all and never worshipped!!!
Non-vegetarian food can be avoided following the principle of non-injury to innocent and dumb animals and to avoid hindrance of attributes of passion and ignorance, but not focusing on the standpoint that Supreme can be attained ONLY by avoiding it.
People are vegetarians because it is customary in their caste and many generations have been keen to follow this custom. Due to this reason they may have not even seen or touched non-vegetarian food and as a result it had generated a disgust for the same.
Vegetarian food enriched with spices and difficult-to-digest matter, sweets, although adheres to the principle of non-injury, tend to increase attributes of passion and ignorance and the end result is obstacles in meditation.
Indeed, as a person progresses in spirituality his attraction in any type of food decreases and is lost permanently. Just because of attending bhajan sandhyas or satsang or spending hours in any temple, one does not attain Supreme. Also these acts do not necessarily mean to avoid non-vegetarian food. More importantly if one gets emotionally upset or tempted even by rich vegetarian food, then any acts of sadhna discussed above would not have desired effects. On the contrary, it would only be show off of your devotion or sadhna. This is easily known to Supreme and it signifies your backward movement from spiritual path.
Baba, being aware of these consequences, never advised His devotees to give up non-vegetarian customs. On the contrary we have seen in Sacred text – Shri Sai Satcharitra, that asks an orthodox Brahmin to bring meat from market. On another occasion Dada Kelkar was asked to taste Biryani – Chapter 38.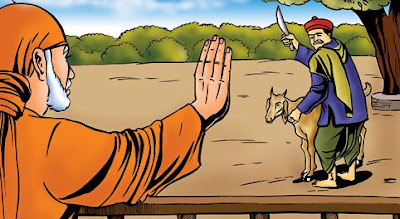 Taking another example of Kakasaheb Dixit, Baba asked him to kill a goat seeing its end near – Chapter 23. But these were orders only to test their Guru-Bhakti (devotion to Master). Seeing them acting, Baba stopped them. It was never noted that vegetarian devotees were asked to eat non-vegetarian food.
Baba's method of persuading His devotees from abstinence of non-vegetarian food was quite different. He always used to say to His devotees that He pervades every living creature let it be you, animals, birds or insect.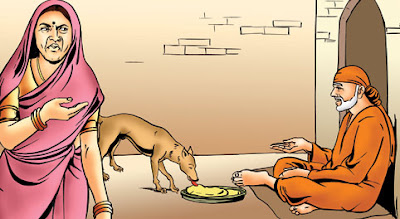 This He practically showed when He said to Mrs. Tarkhad, "The dog which you saw before meals and to which you gave the piece of bread is one with Me, so also the other creatures are one with Me. I am roaming in their forms. He who sees Me in all creatures is My beloved. So abandon the sense of duality and distinction and serve Me as you did today" – Chapter 9.
When, one gets thoroughly convinced with idea of non-duality, he never dares to eat non-vegetarian food. It will be given up automatically and will thoroughly practiced without upsetting mentally or getting the feeling of sacrificing something for His cause. Thus Baba preached 'non-violence' in eating habits too, but in a very realistic, practical and tactful manner.
Onions
Whatever is applicable to non-vegetarian food is applicable to onions too. Baba had habit of eating chapati with onion daily. He never liked disgust for onions because of its bad smell. When a yogi doubted Baba's eating onion and under-estimated His yogic powers, He at once gave proof of His powers.
Also He gave hint to other people that by not eating onion and garlic, which are highly recommended in Ayurveda shastra, they are following baseless customs and beliefs.
Recently, Western Countries, after research, have declared garlic as an excellent cure for heart disease and high blood pressure.
Fasting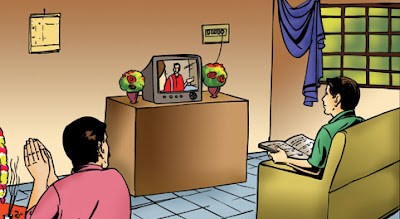 Another important teaching of Sai Baba is regarding food was that of fasting. Baba never keep fast Himself, nor did he allow others to do so. Mrs. Gokhale who had determined to fast for three days was advised to cook food and eat sumptuous and delicious Puran Poli at Dada Kelkar's house. Baba used to say,
"The mind of the faster is never at ease, then how could he attain his Paramartha (goal of life)? God is not attained on an empty stomach; first the soul has to be appeased. If there is no moisture of food in the stomach and nutrition, with what eyes should we see God, with what tongue should we describe His greatness and with what ears should we hear the same? In short, when all our organs get their proper nutrition and are sound, we can practice devotion and other sadhanas to attain God. Therefore, neither fasting nor overeating is good. Moderation in diet is really wholesome both to the body and mind – Chapter 38.
Taking another instance, we have seen how Baba made Mrs. Radhabai Deshmukh who determined to fast unto death as long as Baba did not give her Updesh, to give it up by narrating His own experience with His Guru – Chapter 19.
The sanskrit word for fasting is उप + वास (उपवास) which means 'to sit near'. Fasting is done for religious purposes and it means sitting near God. So it means that on the day of fast one must have pure mind, pure consciousness and meditate on God, but we hardly do this 🙁
On the contrary, we carry on our worldly dealings which also includes telling lies, cheating others, etc. Many other methods are prescribed in religious books for fasting. But we prefer only one or all of these :
1. To eat only fruits and milk, avoiding meal both at daytime and night.
2. To accept only fruits and milk during day time and eat a meal after sunset.
3. To eat a meal once at daytime and accept only fruits and milk at night.
But these are also not observed correctly. It is advisable to eat in small quantities during fast. From scientific point of view, fasting is necessary to give rest to digestive system. But our acts are totally opposite. Fruits we hardly eat. Other 'permitted' items are consumed in full and number of times. One time meal is very rich and over-eaten. What is the result? Of course indigestion. So fasting rules are not at all followed by us and we are not benefited either spiritually or in terms of health. This may have been observed by Sai Baba and thus fasting in the name of religion was never recommended by Him.
My view – Personally i am not for or against of fasting or Sai vrat. By doing Sai Vrat i was benefited immensely and Baba's blessings were felt. From then onwards i have been observing fast on Thursdays. Its more than two years now. As i was benefited, i wished the same for every Sai devotee. But i found few of my Sai brothers and sisters doubting intentions behind Sai Vrat. If fasting without eating food was not recommended by Baba, Baba also did not recommend interfering His devotees' sadhana or worship done selflessly and with pure heart. Indeed Baba did not like His devotees judging others, while He knows the heart of all His devotees. Not speaking ill of others is also one kind of fast.
Not to disregard offers of food
Baba advised not to disregard offers of food.
To do any work or job, energy is needed and it is acquired by eating food. So to do any task perfectly, we need to have our food in required quantity. Offers of food when neglected, hurts somebody's feelings, which no doubt Baba did not like.
To show us this preaching practically Baba narrated His own experience when He met His Guru in foods through a poor Vanjari. His companions disregarded offer for food, Baba did not. So He met His Guru – Chapter 32. Also Appa Kulkarni could not find Fakir when he started his search on empty stomach. But when he went after his lunch, Fakir Himself was seen to be coming towards him and asking for Dakshina – Chapter 33.
Other sub topics – always eating by sharing with others and food – the best charity one can give continued in Part 2 of this post.
First Photo Courtesy – saiphotogallery.blogspot.com (Please note that pictures from saiphotogallery.blogspot.com blog are high resolution wallpapers for free download. As blogger platform does not allow the user to upload pictures in same resolution and size, i request you all to click on the picture to download in original format. Please be sure that "Pop-up" option in your browser is "TURNED ON" otherwise it will not open in a new window.)

© Shirdi Sai Baba Life Teachings and Stories