Previous Post in This Series:
Location of Khandoba Mandir
A small temple of Lord Khandoba is situated near Shri Sainath Hospital and it is opposite to bus stand on the Ahmednagar- Kopargaon road.
History and Importance
Lord Khandoba is said to be an incarnation of Lord Shiva. He is considered as family deity of most Maharashtrians (people belonging to Maharashtra state of India). This temple holds two fold importance in history of Shirdi.
The first reason is – it is place where Sai Baba alighted after a short period of His absence with wedding party of Chand Patil and
The second one is – an unknown and nameless Fakir got His name "Sai" through priest of this temple and then one of His ardent devotees Mhlasapti.
Thenceforth He came to known and called by this name. The Fakir not only carried this name all His life, but it has been sacred mantra for millions today.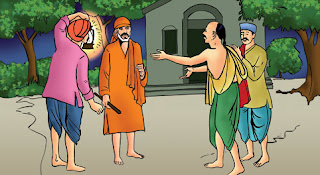 Lord Khandoba was tutelary deity of Mhlasapti, who was priest of Khandoba temple by heredity and he was then responsible for starting worship of Sai Baba. The temple which had its origin about 500 years ago was but natural rural and simple. It did not even had a door. There is large banyan tree where Sai Baba alighted with marriage party of Chand Patil at the entrance of Khandoba temple and it stands today also. Having felt calmness and peace at this place, Sai Baba first decided to make this temple His residence, but Bhagat Mhlasapati thought Him to be Muslim and did not allow Him to stay there. Baba said to him while leaving, "If you do not wish that I should stay here, I will go away". Thenafter, Baba made an old dilapidated mosque of Shirdi His residence and lived there till His last breath.
This temple holds importance in other way too. Sai Baba asked Upasani Maharaj, a staunch and prominent devotee, to stay at this temple for four years for his spiritual upliftment and with some reason in His mind. In the year 1920, Upasani Maharaj sponsored renovation of this temple as a gesture of gratitude.
Khandoba Temple Of Today
Today the temple is well maintained, neat and calm place. It is 15 ft long and 15 ft in breath commemorated with a small shrine and Padukas as its base. A stone idol of Lord Khandoba is located in central shrine of the temple. Also idols of Lord Baba and Mhlasapti are inscribed as a remembrance of event of Lord Baba coming to Shirdi. When it comes to daily rituals now, two artis at 12 noon and 6:00 PM are performed daily.
A rectangular sandpit is situated in front of the temple which was used for fire-walking in those earlier days. Now this tradition has stopped. Even though during annual festival of "Champa Shashti" (usually occurs in December and celebrated for six days after new moon) devotees, to show their devotion, walk on hot coals in accompaniment of bhajans. The mythological story behind Champa Shashti is – being pleased by demons named Mal and Mani, Lord Brahma granted a boon of immortality to them. With passing time they grew evil and killed people. Lord Shiva took form of Lord Khandoba and fought a battle with them. Champa, Lord Khandoba's wife Champa prayed for her husband's victory. The battle resulted into defeat of the demons on sixth day and in that happiness, Champa gave a huge feast of Bharit (a dish made of roasted brinjal with curd and Indian spices) and Bhakhri (a dish made of Bajri – millet, similar to roti). This event marked celebration of "Champa Shashti" as a tradition. The defeat of Lord Khandoba made Him repent, so He walked bare-foot in rectangular sand-pit on which burning coal was kept.
There is also a small museum and few shops selling books and audio CD's are located in temple premises. One, if interested to know about life of Mhalsapti can purchase his biography from these shops. The temple is under scope of Shri Martand Mhalsapati Maharaj Trust.
The Banyan Tree:
This Banyan Tree can equally be considered sacred as Lord Baba alighted at this site with the marriage party of Chand Patil. The said tree is situated on right hand-side of the entrance of the temple. To mark the above said historical event, a small shrine of Lord Baba with Padukas is placed here in addition to small parapet around it.
Next Post in this Series: Complete Shirdi Guide – Shree Gurusthan
---
Added Feature: Now you can get a guide in Shirdi, refer this article:
A Guide To Show You Heaven On Earth

© Shirdi Sai Baba Life Teachings and Stories