Previous Post in This Series: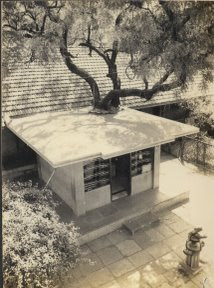 Old Gurusthan
Old Gurusthan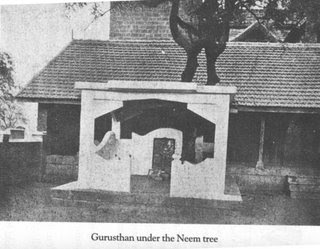 Old Gurusthan
Newly Constructed Gurusthan
Location in Shirdi
Gurusthan, one of the important places of Shirdi is located adjacent to back exit of Samadhi Mandir under a Neem (Margosa) tree and it is opposite to Dixit Wada in Samadhi Mandir premises.
History and Importance
Gurusthan literally means "Place of Guru". Sai Baba regarded His Guru the Foremost in His life and always remembered Him and so this place has gained its importance. Anecdotes related to this historical place are as under.
The history behind this site as given in Shri Sai Satcharitra: Sai Baba at first manifested Himself as a young lad of sixteen years under a Neem tree in Shirdi, for the sake of His devotees and to led this world on the pathway of betterment. He interacted with no one and had almost nothing in the name of food and water. He was alone at night fearing no one. He did not mind heat and cold. Villagers of Shirdi were wonder-struck to see this fair, young, smart and very handsome lad practicing hard penance. They were wondering and asking whence this young chap had turned up. One day it so happened that God Khandoba possessed the body of some devotee and people began to ask him, "Deva! You please enquire, what blessed father's son is this lad and whence did He come." God Khandoba asked them to bring a pick-axe and dig in a particular place. When it was dug, bricks were found underneath a flat stone. When the stone was removed, a corridor led to a cellar where cow-mouth-shaped structures, wooden boards, necklaces were seen. Khandoba said, "This lad practiced penance here for 12 years." Then the people began to question the lad about this. He put them off by telling them that it was His Guru's place, His holy Watan and requested them to guard it well. The people then closed the corridor as before. Mhalasapati and other Shirdi devotees regard this site as the resting place (Samadhi-Sthana) of Sai Baba's Guru and prostrate before it. Thus, from first point of view of very first advent of Sai Baba in Shirdi and the site holding great importance of Sai Baba's Guru, Shree Gurusthan is treaded by devotees visiting Shirdi.
While going through literature Shri Sai Satcharitra, Sai Baba has told that learning Vedas and acquiring scriptural knowledge is not necessary, rather, "Trust in Guru fully and that is the only Sadhana". In fact, Sai Baba's life was a true and living example of Guru-Shishya relation.
On reaching near Shree Gurusthan, we first notice a huge neem which was shelter of Sai Baba in His initial days of inhabitation in Shirdi. Neem tree has many medicinal properties, but its leaves are notoriously bitter. On the contrary, some people have reported that the leaves tasted sweet. This is the proof of the tree being sacred and exceptional sanctity.
After the Sacred Neem Tree, one, while bowing in Gurusthan, one will notice Padukas installed. Facts and details about these Padukas are given in Shri Sai Satcharitra which are as follows:
In 1834 Shaka (1912 A.D.) one Doctor Ramarao Kothare of Bombay came to Shirdi for SaiBaba's darshan. His compounder; and his friend, Bhai Krishnaji Alibagkar, accompanied him. The compounder and Bhai became intimate with Sagun Meru Naik and G.K. Dixit. While discussing things, these persons thought that there must be some memorial of the fact of Sai Baba's first coming to Shirdi and sitting under the holy Neem tree. They thought of installing Sai Baba's Padukas there and were going to make them of some rough stones. Then Bhai's friend, the compounder, suggested that if this matter be made known to his master, Dr. Ramarao Kothare, who would prepare nice Padukas for this purpose. All liked the proposal and Dr. Kothare was informed of it. He came to Shirdi and drew a plan of the Padukas. He went to Upasani Maharaj in Khandoba's temple, and showed him his plan. The latter made many improvements, drew lotuses, flowers, conch, disc, man etc., and suggested that the following SHLOKA (verse) which is sung during Madhyayan (Noon) Arti and Dhoop (Evening) Arti as a part of Shri Sai Mahim Stotram, regarding Neem tree's greatness and Sai Baba's Yogi powers be inscribed. The verse was as follows:
"Sada Nimbarvrikshasya mooladhiwasat,
Sudhasravinam tiktamapi-apriyam tam,
Tarum Kalpavrikshadhikam sadhayantam
Namameeshwaram Sadgurum Sai Natham"
Meaning: I bow to Lord Sainath, Who by His constant stay at the foot of the Neem tree – which although bitter and unpleasant, was yet oozing nectar – made it better than the wish-fulfilling tree.
Upasani's suggestions were accepted and carried out. The Padukas were made in Bombay and sent to Shirdi with the compounder. Sai Baba said that they should be installed on the Pournima (15th) of Shravan. On that day at 11 a.m., G.K. Dixit brought them on his head from Khandoba's temple to the Dwarkamai (Masjid) in procession. Sai Baba touched the Padukas, saying that these are the feet of the Lord and asked the people to instal them, under foot of the Neem tree.
A day before, one Parsi devotee of Bombay named Pastha Shet sent Rs. 25/- by money order. Sai Baba gave this sum for the installation of the Padhukas. The total expense of installation came up to Rs.100/- out of which Rs.75/- were collected by subscriptions. For the first 5 years, G.K. Dixit worshipped the Padukas daily and then this was done by Laxman Kacheshwar Jakhadi. In the first five years, Dr. Kothare sent Rs. 2 per month for lighting and he also sent the railing round the Padukas. The expense of bringing the railing from the station to Shirdi (Rs. 7-8-0) (presently Rs.7.50p) and roofing was paid by Sagun Meru Naik. Now, Jakhadi (Nana Pujari) does the worship and Sagun Meru Naik offers the naivaidya and lights the evening lamps.
Bhai Krishnaji was orginally a devotee of Akkalkot Maharaj. He had come to Shirdi at the installation of the Padukas, in Shaka 1834 on his way to Akkalkot. He wanted to go to Akkalkot after taking the darshan of Sai Baba. He asked Sai Baba's permission for this. Sai Baba said – "Oh, what is there in Akkalkot? Why do you go there? The incumbent Maharaj of that place is here, Myself." Hearing this Bhai did not go to Akkalkot. He came to Shirdi off and on, after the installation of the Padukas.
Next comes Shiv Lingam which also has its root planted when Sai Baba was lively in body. It was installed in Gurusthan in the same year. The incident behind Shiv Lingam shows another tricky deed of Lord Baba. Megha, a staunch devotee of Lord Shiva was sent to Lord Baba for his spiritual advancement by his master Rao Bahadur Hari Vinayak Sathe. He was a simple Gujarati Brahmin who saw Lord Shiva in Baba. It was characteristic of Lord Baba to encourage His devotee to worship his own chosen deity. For this reason, Lord Baba appeared to him in dream and ordered him to draw a trident leaving behind few grains of Akshata (red-coloured rice). Megha was confused about the affair and went to Lord Baba for its clarification. Lord Baba straight away consented and cleared doubt of Megha thereby asking him to carry out the order. The next day a devotee came to Lord Baba and gifted Him a Shivling. He said to Megha who turned up there recently, "See, Shankar has come, protect (i.e.) worship Him now!" At the same time, Kakasaheb Dixit was meditating in Dixit Wada after bath and he had vision of Lord Shiv. At the every moment Megha came with gifted Shivling and told what happened in mosque few minutes back. Kakasaheb Dixit, also in turn, shared his recent vision about Shivling. Thus Lord Baba confirmed Megha's belief in Him. This Shivlingam was worshipped by Megha till his end. Villagers of Shirdi were of the opinion that if there was a tomb according to Lord Baba, then there must be Shivling too. So this Shivling which was worshipped by Megha till end of his days was installed at Gurusthan.
The Gurusthan in Lord Baba's time was completely different from its current structure. It was completely open. Shri Sai Satcharitra in this context points out thus: The site with the Neem tree and surrounding space was bought by Mr. Hari Vinayak Sathe, and on this site a big building styled Sathe's Wada was erected. This Wada was the sole resting place for pilgrims, who flocked there. A platform was built round the Neem tree and lofts with steps were constructed. Under the steps, there is a niche facing south and devotees sit on the platform facing north. It is believed that, he, who burns incense there on Thursday and Friday evenings, will by God's grace, be happy.
Gurusthan – Its Present Look
Gurusthan of today resembles to its first structure of Lord Baba's times. The Neem tree stands today also turning bitter deeds of devotees doing Pradakshina into sweet ones. There is a small pathway with iron railing on its either side for doing Pradakshina. By moving around Neem tree, devotees in turn do Pradakshina of the sacred tomb of Lord Baba's Guru. There stands a small shrine of marble where a photograph of Lord Baba. The replica of Baba's feet, Mahadev's Linga, Nandi and other items from the old temple were installed in this newly constructed temple on Thursday, July 19, 2007. A small sacred fire is kept in front of this marble shrine wherein live embers were brought from main dhuni in Dwarkamai, but now it is done only on Thursdays and Fridays. Devotees find this place very powerful to sit and spend hours in company of Lord Baba's Guru's grace.
Takia
Before leaving Gurusthan, just opposite to it, in the east of Dixit Wada there is an open theatre. Earlier there used to be a small shed which was resting place for visiting Fakirs named as Takia. Sometimes Lord Baba spent nights at this spot.
We all know that Lord Baba had great love for music and dance, it has been noted that He used to sing in Arabic and Persion and sometimes He sang songs of Kabir. At times, He used to put on bells and anklets and dance in ecstasy in company of visiting fakirs.
Next Post in this Series: Complete Shirdi Guide – The Mosque Named Dwarkamai
---
Added Feature: Now you can get a guide in Shirdi, refer this article:
A Guide To Show You Heaven On Earth
---
Suggested Reading:

© Shirdi Sai Baba Life Teachings and Stories