Previous Post in This Series:
In the last post, after reading in detail about constituents of upper level of Dwarkamai, we are now heading to constituents of lower level.
Sabha Mandap OR Open Courtyard of Dwarkamai
Location: Originally Dwarkamai was upto only its three steps. Later on, it was extended for convenience of devotees and so it is called also Sabha Mandap.
History: Shri Gopalrao Gund originally thought of celebrating Urs festival in Shirdi. So also, he was the first person who wished to extend and repair the Masjid. But this work was reserved for Nana Saheb Chandorkar and the pavement work was to be done by Kakasaheb Dixit. Initially, it was rejected by Lord Sai Baba, but Mhlasapati intervened and sought permission. An incident from Shri Sai Satcharitra is connected and mentioned as below:
In order to carry out the repairs, Gopalrao Gund collected stones and got them dressed. When the pavement was completed in one night in the Masjid, Sai Baba took a small Gadi for His seat, discarding the usual piece of sack – cloth used till then. In 1911, the Sabha Mandap (courtyard) was also put in order with great labour and effort. The open space in front of the Masjid was very small and inconvenient. Kakasaheb Dixit wanted to extend it and put on it a roofing. At great expense, he got iron-posts, and pillars and trusses and started the work. At night, all the devotees worked hard and fixed the posts; but Sai Baba, when he returned from Chavadi next morning, uprooted them all and threw them out. Once it so happened that Sai Baba got very excited, caught a pole with one hand, and began to shake and uproot it, and with the other hand caught the neck of Tatya Patil. He took by force Tatya's Pheta, struck a match, set it on fire and threw it in a pit. At that time, Sai Baba's eyes flashed like burning embers. None dared to look at Him. All got terribly frightened. Sai Baba took out a rupee from his pocket and threw it there, as if it were an offering on an auspicious occasion. Tatya also was much frightened. None knew what was going to happen to Tatya, and none dared to interfere. Bhagoji Shinde, the leper devotee of Sai Baba, made a little boldly advance, but he was pushed out by Sai Baba. Madhavrao was also similarly treated, he being pelted with brick pieces. So all those, who went to intercede, were similarly dealt with. But after some time, Baba's anger cooled down. He sent for a shopkeeper, got from him an embroidered Pheta and Himself tied it on Tatya's head, as if he was being given a special honour. All the people were wonderstruck to see this strange behavior of Sai Baba. They were at a loss to know, what enraged Sai Baba so suddenly and what led Him to assault Tatya Patil, and why His anger cooled down, the next moment. Sai Baba was sometimes very calm and quiet and talked sweet things with love, but soon after, with or without any pretext, got enraged.
Location: A bell is tied above to the left direction of the entrance of Dwarkamai.
History: It is believed that the bell was tied by Lord Baba Himself. Certainly it was present during those times because there is a mention about the bell in Shri Sai Satcharitra. Lord Baba had sent Hemadpant to get Rs. 15 as Dakshina from Shama and sit for a while and talk with him. Just as Shama reached to end of a wonderful Leela, it is mentioned there, "The bell of the mosque began to ring, proclaiming that the noon arti had begun. Therefore Hemadpant and Shama hurried to the mosque".
Present: The bell is rung only three times a day at 4:00 AM, 11:30 PM and 8:30 PM. If the bell rings at other times of the day, it is considered as an alarm signal and villagers of Shirdi rush to Dwarkamai to find out what the trouble is and then reach the spot of calamity to set it right. This practice is still going on.

Flags on the Top of Dwarkamai:
Flag By Rasane
Flag By Nimonkar
History: Gopalrao Gund, who was the person to start Urs festival in Shirdi and it marked a permanent tradition of celebrating Urs and Ramnavami festival in Shirdi, thereby asked one of his friend Damu Anna to supply a flag for the procession. He also induced Nana Saheb Nimonkar to supply an embroidered flag. So both the flags were taken in procession and fixed at the top of Dwarkamai. This tradition still persists and it is now carried on by their descendants.

Present: Even today flags are brought by descendants of Damu Anna and Nana Saheb Nimonkar. They are at first placed on Samadhi of Lord Baba. Thenafter arti is performed and taken to the home of devotee Tukaram. (Tukaram played a considerable role in repairing the masjid. After construction was complete, he very honestly served on his part by sweeping and cleaning masjid, heating water and serving it to Lord Baba for washing His mouth and face. This service was not accepted by Lord Baba by anyone, except him.) Again, then, arti is done and flags are hoisted on pole prepared by descendants of three devotees who contributed considerably in repairing the Masjid viz Kondaji, Gabaji and Tukaram. Amidst great joy and excitement, flags are taken throughout the village in ceremony and placed at the roof of Dwarkamai.
Note: During my visit to Shirdi last Diwali (a detailed post can be read under the title "Series Of Leelas Followed During This Diwali). I had a chance to meet descendants of Nana Saheb Nimonkar, who are based at Nimongaon. They told us that now the flag gets dirty throughout the year so now Shri Sai Baba Sansthan Trust of Shirdi has requested them to supply two flags in a year. Now the flags are changed during Ramnavami and second day of Diwali which is called "Paadva" in Marathi Language.
The Cooking Hearth (Chulli):
Location: The cooking hearth is situated to left of the lower level of Dwarkamai.
History: Lord Baba lived in the guise of a Fakir, having old, dirty and torn out Kafni on His person. On the other hand, we cannot find any other person so rich as He was and is even today. So, whenever He wished to do 'Daan' (donation), He used to feed His devotees sumptuously. For this reason, He Himself cooked food taking all pains of shopping raw ingredients, chopping, grinding ground spices and pounding. To cook lovely and delicious food, He used 'Chulli' (earthen cooking hearth). He, occasionally cooked metha chaval (sweet rice), varan (pulse soup) with wheat dumplings, moong dal dumplings and ambli, Biryani (rice cooked with spices, vegetables and curd and sometimes with meat too!!!) etc in large quantities. To prepare food for about 50-200, two copper pots were used. They are now in display in museum in Samadhi mandir premises.
Lord Baba cooked the food in very peculiar style. He did not use ladle or spoon to stir the scalding food, rather His bare Hand was put in hot pot, without causing any scorch or injury.
Then, as per Shri Sai Satcharitra, "With His Own Hands serve very lovingly to all with great respect. And those desirous of eating would happily partake of the food till quite full, even as Lord Baba pressed them to have more, saying affectionately 'Take some more!' Oh, how great must have been the merit of those who partook of this most satisfying meal! Blessed, blessed were those to whom Lord Baba served Himself". In addition to this, it has been stated that the numbers of visitors started to grow and quantity of food offerings also increased, so Lord Baba cooked less food then onwards. Still Lord Baba did not give up His practice of begging alms throughout His life.
Present: It is now enclosed with wire cage until recently it was open and freely accessible to devotees. The hand mills and handies are now kept in museum in Samadhi Mandir premises.
The Small Red Pillar:
Location: The pillar 3 Feet tall located in front of Chulli in the lower level of Dwarkamai.
History: We all know that Lord Baba used to cook food and lovingly served His devotees. While cooking the food, He sat in front of Chulli and rest His back taking support of this pillar.
Once Nanasaheb Dengle, wished to worship Lord Baba, but He did not accept the request and asked to worship the pillar. The pillar, though has an unremarkable looking, possess remarkable healing powers, which Lord Baba invested Himself. One of His close devotees, Swami Saranand was suffering from a severe pain in the knee. Lord Baba asked him to touch the post with his knee and then did Pradakshina to it. The advice was fully undertaken and the pain disappeared. To this day, people suffering from body pain also like to lean against the pillar as a means of receiving Lord Baba's blessed healing.
Three Steps In Front Of The Pillar:
Location: The Steps are in southern direction of Dwarkamai.
History: Lord Baba used to use these steps to go out and come in His place of inviolable privacy (Latin word: Sanctum Sanctorum).
Present: Devotees are advised to offer their pranams to these steps.
Padukas where Lord Baba used to stand:
Location: Just behind the cooking hearth and its surrounding area, Padukas are installed on the wall above it with a small shrine.
History: Usually before going on round to Lendi baug, Lord Baba used to stand behind the area of cooking in Dwarkamai, leaning against mud wall and addressed passing villagers of Shirdi as thus, "How are you?","How has been your crop this year?","How are your children doing?" As a remembrance of this friendly nature of Lord Baba, after His Mahasamadhi, Padukas were installed where He used to stand and another small set of Padukas were installed above on the wall where actually Lord Baba leaned His arm. A small shrine is also installed above the Padukas on floor of Dwarkamai.
Present: Daily worship is offered by priest here.
Chariot Rooms (Storage Rooms):
Location: They are located on each side of lower section of Dwarkamai. In one such room, chariot used for processions is kept and the other was used to keep Rath or chariot for festivals.
History: A chariot was presented to Lord Baba by M.B.Rege and Avasthi. On Guru Poornima of 1918, Lord Baba reluctantly gave to permission to use it, but He never sat in it during His lifetime.
In the year 1999, the chariot was moved to Samadhi Mandir's extended area. Shri Sivanesan Swami, an ardent devotee of Lord Baba, cleaned and decorated Dwarkamai with his tireless efforts was allotted this room by the Sansthan.
Let us now go through an incident with regard to other chariot which dates back in the year 1912.
Few devotees wished that Lord Baba should have royal accessory and under the leadership of Radhakrishnamai and R.B.Purandare, silver chariot (palanquin), different from the present one, was acquired by them. It was gifted by Sadhu Bhaiya Naik and his two brothers from Harda. When it reached Shirdi, Lord Baba denied to open it and it remained in packed condition for three months.
Purandhare finally succeeded in convincing Lord Baba to unwrap the chariot. He did not touch it even and also did not want it in Dwarkamai. But devotees were resolved that Lord Baba should get inside it and the chariot should be used in Chavadi procession. After much pros and cons finally Lord Baba gave His Sandals (Padukas) to carry out the procession instead of sitting inside Himself. Thus the procession went ahead. Now, He did not again allow the chariot inside. The same night few silver ornaments were stolen. When this was reported to Lord Baba, He exclaimed, "It was pity the whole thing had not been taken!"
The silver chariot's safety was also at risk. So devotees thought that a safe shed at the side of mosque with lock can be a good alternative. This job demanded boring holes into the side of Dwarkamai – conventionally an act of extreme desecration. However, Purandhare, on finding convenient opportunity when Lord Baba had gone to Lendibaug, started the work of drilling, in order to pay all his due respect to Lord Baba. Other devotees present in Dwarkamai fled away fearing Lord Baba's wrath. But Purandhare was very stubborn and his love for His beloved was at its extreme height. As predicted, on returning, Lord Baba flew into rage. He continued to shower abuses, but Purandhare was determined and choose not to go away, even if Lord Baba would kill him, without finishing his job. At last, Lord Baba gave His permission for the work, but cautioned to be careful. Indeed he even did not pause the work for food and continued to work in order to finish it off soon despite Lord Baba's wrath and abuses.
Lord Baba saw His loving devotee toiling without food, He became upset and said to Kakasaheb that He was feeling plangs of hunger because Purandhare was also hungry and still working. Kakasaheb Dixit told that Purandhare was anxious to complete the job of drilling quickly because leave from his job was almost over.
While Purandhare was working, he was listening the conversation between Lord Baba and Kakasaheb Dixit. Lord Baba sent somebody to call him, he immediately came running to Him, fell at His Feet and wept. How the scene was to be reconciled? Lord Baba was scolding and consoling while Purandhare was moved with extraordinary love which Lord Baba was showering on him inspite of the fact that he was doing such a work which was not acceptable to Lord Baba.
Lord Baba now pressed Purandhare to have some food and take break and succeeded in persuading him. Purandhare could not leave mosque because of his doubting thoughts. While at the doorway, he said, "No Baba, if I go, You'll simply pull it down the moment I am gone". He agreed to go for break after taking promise from Lord Baba that He would not interfere in the work. Lord Baba remained true to His words, Purandhare returned and the work was completed soon. He then returned to his home and resumed his work only after the chariot was placed inside the shed and Lord Baba gave him permission to return.
A noteworthy point here is that Lord Baba although allowed chariot to be kept in Dwarkamai, He never sat into it and devotees had to be content with His Padukas only. Lord Baba always wanted to be away from such pomp and show. Still he had to indulge in it adhering to loving wish of His devotees. Till date He is doing so 🙂
Present: Now the shed is used for storing firewood and Udi. The other storage room on the right of the steps as you face it is used to keep chariot for festivals. The chariot is used today also in Thursday's Chariot Procession.
Agarbatti (Incense-stick) Stand:
Location: A small agarbatti stand of red colour is located on raised platform on the right side of the entrance of Dwarkamai.
History: The stand was present in Lord Baba's time. It was used to fix incense sticks. He often sat on this platform and distributed Udi after noon arti.
Tulsi Vrindavan:
Location: It is located in north east corner of Dwarkamai directly visible from the entrance.
History: Lord Baba had planted Tulsi plant outside the masjid. After the outer courtyard of masjid was constructed (1909 – 1912) devotees brought it inside the masjid.
The Tulsi is traditionally sacred to Hindus. Lord Baba often posed as a Living Emblem of Hindu-Muslim unity. As many other ways, keeping Tulsi Vrindavan in masjid is also an example of uniting Hindu-Muslim elements.
Present: The nourishment of Tulsi Vrindavan is not upto the mark because it is under roof of Dwarkamai due to lack of sunshine. Every year Tulsi Vivah is done on the twelfth day of Diwali.
Stone On Which Sai Baba Sat
Location: The stone is situated in the center of eastern wall of Dwarkamai in Sabha Mandap.
History: Until Lord Baba sat on it, it was lying in Lendibaug and devotees used to wash clothes on it. One day Lord Baba happened to sit on it and was noticed. It was then forbidden from its use of washing and considered sacred. So it was brought to Dwarkamai by devotees.
Present: The stone now lies still under Lord Baba's large portrait above it and a pair of marble padukas embossed on it.
Large Portrait Of Lord Sai Baba:
Location: It is hung above the stone on the eastern wall of Dwarkamai just opposite to the steps which lead one to Dhuni Maa.
History: The life-like portrait of Lord Baba gives lot of solace and joy to the one who sees it with love. It gives a feeling that Lord Baba is Himself listening to the pleas and prayers of His devotees. The posture of Lord Baba is the most common of all. One day Lord Baba happened to sit on it and someone took opportunity of taking photograph. So it is one of the only few original pictures of Lord Baba and thus it has been treasured.
How lovely is the posture – Lord Baba is sitting on a large stone with His right leg crossed over the left thigh, His left hand resting on the crossed Foot. He has, as usual, a torn Kafni on His person, a headscarf with its end knotted on His left shoulder, in a very relaxed mood, yet seems to be always alert to attend calls of His devotees, leaning slightly forward, so as to listen what one is whispering 🙂
D.D.Neroy from Bombay owned the original painting of this photo. He presented the same to his guru, Kammu Baba, who later gave the picture to Sansthan of Shirdi. It is likely that this is same picture which was given to sculptor who carved Lord Baba's statue of Samadhi Mandir by Sansthan.
Present: The picture is now covered with glass case and cleaned every morning before Kakad Arti by priest of Dwarkamai. It is decorated with Chandan (sandalwood) with a huge garland of flowers. Devotees meditate on and worship this picture by sitting in Dwarkamai in calm hours. Also we should always remember that bowing before the picture of Lord Baba is equivalent to directly bowing Him. What can be more proper than bowing to this picture and have a silent conversation with Lord Baba now when we do not get to see Him with our own eyes.
Animal Statues: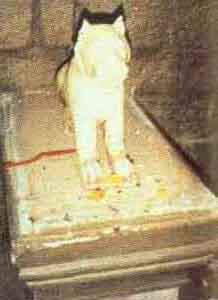 Statue Of Tiger
Statue Of Horse
Location: A statue of tiger and one of horse to the left is on each side of the large portrait of Lord Baba.
History: The story of Tiger as narrated in Shri Sai Satcharitra is as follows:
"Seven days before Sai Baba passed away, a wonderful incident occured at Shirdi. There came a country-cart and stopped in front of the Masjid. A tiger was on the cart, fastened with iron chains, with its fierce face turned to the rear. It was suffering from some pain or agony. Its keepers – three Derveshis – were taking it from place to place and making money by exhibiting it. It was the means of their subsistence. They tried all sorts of remedies to cure it from the malady it was suffering from, but all was in vain. Then they heard of Sai Baba's fame and came to Him with the animal. They got it down the chains in their hands and made it stand at the door. It was naturally fierce, besides, disease ridden. So it was restless. The people began to look at it with fear and amazement. The Derveshies went in, told Sai Baba everything about the animal and with His consent, brought it before Him. As it approached the steps, it was taken aback on account of the luster of Sai Baba and hung its head down. When both saw each other, it got on the step and looked at Sai Baba with affection. Immediately it moved the tuft of its tail and dashed it thrice against the ground and then fell down senseless. On seeing it dead the Derveshis were first much dejected and full of sorrow, but on mature thought they came to their senses. They considered that as the animal was diseased and nearing its end, it was very meritorious on its part that it should meet its death at the feet and in the presence of Sai Baba. It was their debtor, and when the debt was paid off it was free and met its end at Sai's Feet. When any creatures bow down their heads at saints' feet and meet death, they are saved; and unless they have got a good store of merit on their account, how could they get such a happy end?"
Now let's see story of this horse – the story behind the horse is highly remarkable. A devotee Kasam's mare did not produce foal for a long time and so he resolved to give first-born to Lord Baba if she produced. This happened and Shyam Karni, one with black ears (named as Shyam Sundar meaning "Black Beauty" by Lord Baba) was an integral part of Chavadi Processin. He was beautifully decorated and led the procession every time. He was trained to do "Namashkar" to Lord Baba and it also attended daily arti and worship.
Nanasaheb Chandorkar hired a man to train and look after it. One day, Lord Baba was sitting in Dwarkamai, suddenly He said, "Oh, they are killing the horse! Go quickly and fetch him!" Soon then Lord Baba revealed His back to show livid marks of a whipping on His own skin.
This beloved horse of Lord Baba died in 1945.
Present: The Samadhi of Shyam Sunder is in Lendibaug, while its statue is near Lord Baba's portrait in Samadhi Mandir alongwith a statue of tiger.
Tortoise Tile:
Location: A marble tile with a tortoise carved in relief is located about two-three steps back from the steps on the floor of masjid.
History: The tile in engraved with two purposes – it is the place where Shyam Karna used to bow to Lord Baba and also it is the place where the stone on which Lord Baba used to sit. It was later on shifted backwards when Dwarkamai was extended after Lord Baba's Mahasamadhi.
Present: The tortoise is worshipped with "Ashta-Gandh" before Kakad Arti and at 11:30 AM before Noon Arti.
Location: A parayan hall (used till 1999) is located adjoining eastern wall of Dwarkamai. Its entrance is outside the mosque around left hand corner as one exit Dwarkamai.
History: When Lord Sai Baba was in flesh and blood living in Dwarkamai, there was a collection of sheds where the current building stands, part of it was used as a school and the teacher there was Madhavrao Deshpande (Shama). He had reported that there was a small window in the dividing wall through which he sometimes used to peep at Lord Baba and realized that He was an ordinary mortal and began to have faith in Him.
Radhakrishnamai, a devotee instrumental in developing Shirdi Sansthan probably stayed in one of those sheds when she first came to Shirdi. Lord Baba used to send visitors to her and referred it as "The School".
Abdul Baba also lived here for some time.
Before Lord Baba's mahasamadhi, part of this building was used as stable for Shyam Sundar. It was built with the money donated by grateful Sakharam Aurangabadkar from Sholapur as his wife gave birth to first child after twenty-seven years of marriage.
Present: The building is now used a storeroom and new parayan hall is shifted to Lendibaug.
---
Photos courtesy : Sai Bhakta Dr.Vinni, Shirdi- Author of Ambrosia in Shirdi

© Shirdi Sai Baba Life Teachings and Stories