Dear Sai Readers, a short and quick note about my return from Shirdi and prayers reaching Shirdi was posted last week. But full narration of this memorable trip was pending. Time constrains were dominating and so it took long to post the narration. I guess you all would also be waiting. Even i was eager to share every detail of the trip and herewith without beating round the bush, i would start up with divine experiences of Shirdi trip.
A link of previous Shirdi trip is always connected with present one. This time also the same happened. Such details it seems fit to be shared here because it shows clearly how our thoughts and wishes are fulfilled by Lord Shirdi Sai Baba.
As stated earlier that this trip has its root laid in the earlier one, everything was unexpected but it did happen because grace of Lord Baba was present in abundance. Relations are always made well in advance before a soul gets transformation into a body and that body maintain these relations as and when needed. Blood relations are considered foremost of all relations. Few choices are still left for the body to choose for themselves. In making such relations, Lord Baba also many a times play a major role. In this manner i have been gifted a wonderful Sai Family by Him and each such relation holds specific importance in my life. My one such relation is with Sai brother Rana Gill (Lyricist and Singer of SAI TERE HAZAARON NAAM – Sai Baba Bhajan Album). With true wish of Lord Baba, our relation started and to me was entrusted the duty of taking care of his blog work. Since three years we are regularly in touch and hours are spent together talking over phone or chatting on internet as he resides in Canada. You can follow the link of SAI TERE HAZAARON NAAM blog for detailed write up about how we met. But we had not seen each other face to face until Lord Baba showered His blessings. Being so far away from his homeland, he always longed to go to Shirdi. This made him upset many times and in turn this troubled me too. After meeting him over the internet each time i visited Shirdi i asked Lord Baba to call him soon. On my Shirdi visit this Diwali, before leaving i said, "Lord Baba please call me to Your town with my brother, till then i will not come to Shirdi". The same was secretly done by my mother because she also wanted to see and meet her son soon. We both did not reveal our common vows until we reached home.
Brother Ranaji told me that he had came to India in 2007. Of course it has been long time and none of us knew when he would be coming again. So for me and my mother it was very uncertain to go to Shirdi for unknown time period. But still we both were confident that Lord Baba would not take much time to call all of us to His town.
After we returned from Shirdi and 2-3 days passed, i got very good news that there were few chances for Brother Ranaji to come to India. My happiness doubled because Lord Baba gave a probable call to His town so soon and at last i was to see my loving brother for the first time after such a long wait. As i said earlier, we brother-sister spent long hours on phone, we had many times made plans of going to Shirdi together. So, before his leaving Canada the date for going to Shirdi was fixed. Only one day was postponed afterwards due to unavoidable circumstances. On February 13, 2011 in afternoon we started for Shirdi in taxi.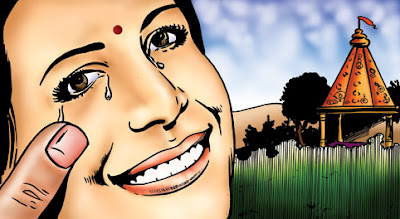 We reached Shirdi at about 2:30 AM. All seemed to be tired by the journey, but when Shirdi's Holy air is breathed, all tiredness gets vanished. Over and above it, all of us noticed doors of Dwarkamai open with very few devotees seated in silence and meditation. It was but natural for all of us to rush there. Shirdi at day time is always crowded with devotees but the scene of midnight was absolutely calm and mesmerizing. Nobody was seen in lane near Dwarkamai. Lord Sai Baba was also resting at that time. To the contrary my thoughts were that after a long tedious day of meeting devotees visiting Him, granting their wishes, consoling them, promising them, loving and caring them, now He must be giving all account to His Master in this moment of calmness. Not minding this silence to be broken on our entering Dwarkamai, i, with all others, simply rushed and got seated on the lower-level floor of Dwarkamai. Lord Baba did welcome us with silence all around and got back to His work soon. Oh what a peaceful ambiance it was!!! No push, no rush, no cries, no hurry to proceed…!!! It was totally heart-melting. My eyes could not stop shedding tears. Lord Sai Baba is always with us, but Shirdi has some different magnetic effect which consciously gives feeling of His Physical Presence then what to say about Dwarkamai? At other times, before leaving for Shirdi there are so many things to say and share with Lord Baba, but on reaching everything gets vanished and mind is totally blank. It seemed that all the prayers, talks were already heard by Him and when He comes in front of eyes, He gives chance to stare Him with no thoughts in mind and heart full of love. But this time i opened my heart to Him and He, as loving Father kept on listening me. He was assuring me that everything would be fine. "I am always with you to take care of you, do not worry hence". My heart melted and my eyes were continuously shedding tears. I could never forget those moments. Brother Ranaji was seated near me, so i was trying to hide my tears from him, though i knew that it was known to him. Being far away across seven seas, he used to read my mind and tell me exactly what was going in me, then it was certainly implied that he was knowing, but he did not disturb Our silent conversation.
Kakad Arti was to start at 4:30 AM and about one hour was remaining. So we both decided to take a walk around Samadhi Mandir. Since we were having our cell phones and camera with us, we did not enter Samadhi Mandir premises. The moments were dream coming true and each second was enjoyable. We were sometimes talking and sometimes were silent just trying to believe that dreams can also turn into reality. In my mind i was continuously thanking Lord Sai Baba for His gentle love and acceptance of our prayers. His grace seemed to be at peak level:) After completing two rounds, we again went to Dwarkamai. There was still some time remaining for arti to start. The work of cleaning and decorating Dwarkamai was going on. The glass covering from stone on which Lord Baba used to sit was open and i had a quick chance to touch it. Soon after sometime Kakad Arti started and it was really blissful to attend Kakad Arti in Dwarkamai. Then we went to Dwaravati for taking rest.
A curious thing we noted while we were walking around Samadhi Mandir. A white dog was following us. At times he overtook us and stood till we reach near it and then it again followed us. This happened many a times. It even crossed road with us when we were going to Dwaravati and followed us till we reached. We did not pay any attention to the dog, though it was making me scared, but Brother Ranaji was saying me that it will not harm us don't be scared. It really did not harm but it was certainly a form of Lord Baba!!!
Next day after refreshing we went to Chawadi. Noon Arti was about to start and so we stood in front of Chawadi and enjoyed the arti. Before one month, we had booked the date in Shri SaiBaba Sansthan Trust register to give a chance to Brother Ranaji to sing in Lord Baba's darbar. The event, which he considers as historical event of his life, was scheduled on February 15, 2011 from 9:00 PM – 10:00 PM. So it was required that we must meet the concerned official of the Sansthan though written documents for the permission were already prepared and given to us. We reached the office and found that the official had gone for lunch and we were called after one hour. In the meantime we had our lunch and returned back to the office. The official was still not present. His secretary made us sit very comfortably and listened to us. Our query regarding musicians was attended by him and he tried all means to arrange. While this was going on, the official came back from lunch and we were called in his cabin. He is always running busy and rarely meets anyone. But for us there was a very different treatment. He very calmly listened to us and promised to provide every facility in his reach. Everything went on so smoothly that our only conclusion was that Lord Baba was showering His grace continuously.
Lord Baba did not allow us to step inside Samadhi Mandir until He made us realise that He had all arrangements ready for us. There was no need to worry because He Himself had planned everything. Brother Ranaji and i were very relaxed and now our thirst to take darshan in Samadhi Mandir had to be satisfied as Lord Baba had called us. So we rushed to Darshan queue. My mother also accompanied us. Crowd was considerable, but glass covers around Samadhi were removed. We reached near Lord Baba from His right hand side. I had prayers with me as usual and i was returned them with a rose from Samadhi after being touched at Lord Baba's Holy Feet. I touched Samadhi and was full of energy and love. Words are less to describe my feelings of that time. I was too much excited to see Lord Baba and this was my first darshan of this particular Shirdi trip. Then we can imagine what Brother Ranaji would be feeling as he was visiting Shirdi after five years! He was literally in tears because Lord Baba had called him to His town after so long time, while he had lost hope that Lord Sai would not shower this grace on him and it took sometime for him to come back to normal. It was evening and it was wish of Brother Ranaji to go to Shani Shinganapur to take darshan of Lord Shani Maharaj. We all had nice time and darshan there too and returned back to Shirdi at about 11:00 PM.
Next day had much more in store for us. Few more arrangements for the evening event were left and we first completed those. After having lunch in Prasadalay, we went for darshan in Samadhi Mandir. Waiting hall was fully packed with overflowing devotees in it. Due to some VIP devotees coming for darshan the general queue was forwarded after time intervals. So we had to wait for about two hours to reach the main hall. After a long wait, we had very blissful darshan once again and Lord Sai Baba took all care that we had nice darshan without any hindrance. The coutdown for historical event of Brother Ranaji's life had started. Lord Baba showered real grace on him by keeping him near Himself for about 10 more minutes while we were waiting for him outside.
At 8:00 PM we all gathered near Gate no. 3 of Samadhi Mandir premises. All of us entered through Mukh-darshan gate which is now situated opposite Dakshin Mukhi Hanuman Mandir. Musicians were ready with their instruments on the back stage adjacent to Dwarkamai and at the end of Samadhi Mandir. Sansthan officials, now a days, do not provide sound system to any artist, but for us it was promised. But till 9:00 PM nothing seemed to be arranged. Brother Ranaji was ready to sing without sound system. While we were discussing this among ourselves, personnel from Sansthan came and within few minutes arranged everything. At 9:15 PM Brother Ranaji starting singing soulful bhajans written for Lord Sai Baba in His Darbar. The darshan queue was stopped because arti time was nearing and main hall was vacated for cleaning. Thus Lord Baba listened to Brother Ranaji taking time out of His busy schedule and was alone on His Golden Throne!!! Photographs of the event were captured by photographer of Sansthan. One can follow the link of Brother Ranaji's blog to view pictures. Devotees present in Samadhi Mandir and Dwarkamai seemed to be enjoying bhajans. Few of them sat at lower level of the stage facing Lord Baba and listening attentively. Humans like us were noticed to enjoy the words of praise of Lord Baba, but i felt that every inanimate thing present there was enjoying the bliss. I had a glance at Dhuni Maa and its flames were seen to be raised very high as i was able to see them from back stage of Samadhi Mandir while at other times we have to peep in deeply to see the flames in Dwarkamai. One hour was given and the end time was nearing. I was feeling that the time stops here and i go on listening to my brother in Lord Baba's darbar. I was having my father's wrist watch with me to inform time to Brother Ranaji. To my astonishment, when i looked at the watch after 2-3 seconds of this thought crossing my mind, i found that the watch was stopped and time is displayed was 9:58 PM!!! My feelings were such that today time forgets to show the time of 10:00 PM and this was actually made true by loving Lord Baba. After sometime, the watch again started to work normally.
We had planned to return back from Shrdi on the same day. But Lord Baba did not allow us to leave until next day evening. He had much more in store for us which we realised when it came to us. Brother Ranaji has shared an incident of his first album being played in Shirdi Darbar for the first time on his blog. I request you all to read that incident from his blog directly to avoid making this write up too much lengthy. He wanted again to meet the person who made this possible. So we took him to music room but the official was not present. So Brother Ranaji, meanwhile, went near Lendibaug to meet some devotee. Me and my father were waiting in music room itself. After concerned official came, we gave CD of SAI TERE HAZAARON NAAM to him. He was talking with my father and i told my father that i'll go and call Brother Ranaji. I hurriedly went to him and told him to come with me. While we were on the way, we heard the CD being played the third time. I again request readers to read another write up wherein Lord Baba showered immense blessings and accepted my wish for my brother by playing bhajans on Diwali day. At that time, i really missed him and wanted to experience this happiness in his presence. But the time had not yet came. Now this time Lord Baba fulfilled my this wish too. I am thankful to Him again and again for turning all my dreams with respect of Brother Ranaji into reality. I listened him live in Shirdi and again Lord Baba made me listen his recorded bhajans on the day when we did not have any plans to be in Shirdi. I guess He made us stay for one more day for this treat only!!! In evening we departed for Baroda (Gujarat) again enjoying bhajans on our individual requests by Brother Ranaji on our way and reached at 4:00 AM thanking and remembering Lord Baba for His great hospitality and mercy dawn on us 🙂

© Shirdi Sai Baba Life Teachings and Stories