Previous Post in Naam Jaap Series
P.S. We are receiving emails, comments, SMS's, Whatsappp messages from devotee readers, members of MahaParayan, asking how to join Naam Jaap group, we request you all to give us some time to reveal everything. These are series of posts where we have highlighted how Lord Baba has Himself inspired this Spiritual Venture. Naam Jaap process and its execution will soon be announced. Till then kindly assimilate messages related to Naam Jaap. "Shraddha" "Saburi" are key virtues valuable to Lord Baba.
It was really interesting to read how slowly but steadily Lord Sai Baba hinted Sai Sister Rakhi about conducting bhajans are her place. However He had been smart enough to give her (also, all of us) clear picture of what He exactly wanted to us to frame. Let's move to today's post.
---
Connecting what was the significance of Bhajans and the idea of celebrating the 100 year of Baba's Mahasamadhi I had another experience.
Time and again I kept getting involved in Bhajans and would find myself singing.
I am a part of 365 day Sai parayan group as well. Very soon after the Bhajans one Sunday afternoon I was reading the Chapter 6 which talks about how the first time Ram Navami was celebrated in Shirdi. I was so engrossed reading and imagining the festival like I was transported back on time to Shirdi.
Reading through lines where Baba made Radha Krishna Mai do Naam Saptah.
As I read that, like the lines were not read but a voice said to me to do Naam Saptah from first day of Chaitra.
I paused and thought to myself what I just heard after completing the chapter I still could feel the voice from before where the voice was so clear and everything else like so faint like a vacuum.

I was so charged and my mind was racing so fast to figure a way how to do this.
I told Baba did You really tell me to do Naam saptah? How will I do it? How will I chant 24*7?
I said Baba I am so confused and lost?
See the magic of my sweet Sai. Within a few minutes I get a forwarded video where the host talked about how the Akhand Bhajans were started by 2 ladies whereas they were asked by Satya sai Baba to chant Sai ram for 24 hours and chant it in different Dhun for 24 hours.
Listening to that my mind started making connections Bhajans? Naam saptah?
At that moment it seemed to me like Baba opened a door for me and I could see more in the light and thought that yes people together can also do Naam Kirtan.
The magic of Baba didn't stop there, the next door that Baba opened that same afternoon, I got a video of Bhajan where people all together on a online portal came together and start singing a Bhajan, melodious as it was and the way it came to met was like another answer to the question on how to gather the people together.
Baba liked walked me through the door saying gather people at a particular time from all around the world and sing together. Here it was Baba laid the path on how to do Naam Saptah, do it like Akhand Bhajans /Jaap of a name and chant it with love with people from different part of the world at a particular time.
The idea was like a bright light that lit up my mind and heart and became a very strong feeling for me to pursue.
I called Pooja ji the next morning as I was so excited and told her about my experience. She told me that it was a great idea and why not make this Naam smaran 24*7?It was like Baba talking through her.
I love Baba and love to chant my Vitthal name day and night. Naam saptah is my tribute to Him, to the dhuni He lit more than 100 years ago that gives us hope and life wherever and however we are.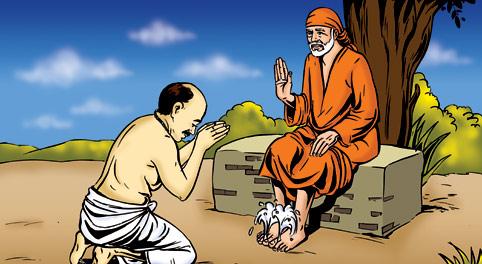 Baba is with us 24*7 so how can we keep away from chanting his name that cuts our bondage and frees us from calamities.
In Satcharitra Baba says that if a devotee is earnest and devout Vitthal will manifest Kimself. This is one of the most favorite stories of mine in The SatCharitra and I have experienced this in 2015 when I wanted to do Sai Jholi program at my house where Baba would come to take Bhiksha in the form of devotees, Baba showed his swaroop on the wall of our home and blessed us all, He manifested himself in our home.🙏
Going in line with the thought and inspiration
The video shared in the last post Baba has answered yet another time that Vitthal will manifest himself, the flowers were dancing when the devotees were singing Vitthal Vitthal Vitthala!!!!
What more can I say, the love and grace is showered upon us devotees. Let's all come together and do Naam kirtan, the name of Sai Swaroop that saves us from calamities and frees us from bondage.
Bow to Shri Sai Peace be to all🙏
Coming up in the next post: The First Sai Naam Jaap Groups Forms With Dream to Sai Devotee Manju
© Shirdi Sai Baba Life Teachings and Stories