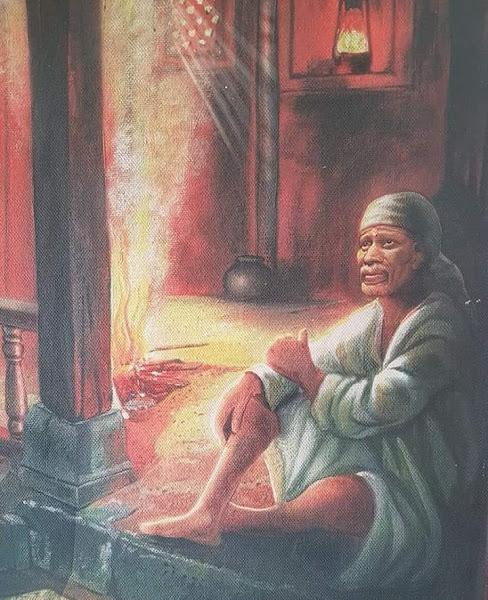 Previous Post:
It was an evening of the year 1907 when Sai Baba had returned after meditation from Lendibaug. He was sitting with His hand resting on the railing of Dwarkamai. The sun was about to set, and the villagers of Shirdi were retiring from their works and heading to their homes. Baba noticed someone clad in white clothes nearing Dwarkamai. He could not take His eyes off from the person. As the person was approaching near, He figured out that it was a woman. Is she a homemaker, or is she a saint, she was still a mystery. She adorned white saree and had a Jholi on her shoulder. With Ektara in one hand and a pair of Kartaal in the other, she had applied a tilak of abil (white powder) as per Madhav Sampradaay. While bracelets made of Tulsi adorned both her wrists, a neckpiece made of small Tulsi beads ornamented her neck. Her hairs reached her knees. Though her outward condition was not up to the mark, her appearance was awe-inspiring.
As she reached Dwarkamai, the lady put down her belongings, and without climbing the steps of the Masjid, she bowed down her head to the earth and folded her hands in reverence to Sai Baba. She took out the idol of Radha-Krishna from her bag, gathered two bricks, placed a clean cloth above it and installed the idol on it. Stationing herself there, she took her musical instruments and started singing bhajan's composed by Meera.
Raam Naam Mere Man Basiyo, Rasiyo Raam Rijhaau O Sai

Main Mand Abhaagan, Param Abhaagan, Kirat Kaise Gaau O Sai

Birah Pinger Ki Baad Sakhi Ri, Uthkar Ji Huslaau O Sai

Man Ku Maaru Saaju Satguru Su, Doormat Door Gamaau O Sai

Ramakadu Naan Surat Ki Dori, Kadiya Prem Chadhaau O Sai

Prem Ko Dhol Banyo Ati Bhaari, Magan Hoy Gun Gaau O Sai

Tan Karu Taal, Man Karu Dhapali, Soti Surati Jagaau O Sai

Mo Abla Par Kripa Kijiye, Gun Govind Kaa Gaau O Sai

Meera Ke Prabhu Girdhar Naagar, Raj Charanan Ki Paau O Sai

राम नाम मेरे मन बसियो, रसियो राम रिझाऊं ए माय।

मैं मंदभागण परम अभागण, कीरत कैसे गाऊं ए माय॥

बिरह पिंजरकी बाड़ सखी री, उठकर जी हुलसाऊं ए माय।

मनकूं मार सजूं सतगुरसूं, दुरमत दूर गमाऊं ए माय॥

डंको नाम सुरतकी डोरी, कड़ियां प्रेम चढ़ाऊं ए माय।

प्रेम को ढोल बन्यो अति भारी, मगन होय गुण गाऊं ए माय॥

तन करूं ताल मन करूं ढफली, सोती सुरति जगाऊं ए माय।

निरत करूं मैं प्रीतम आगे, तो प्रीतम पद पाऊं ए माय॥

मो अबलापर किरपा कीज्यौ, गुण गोविन्दका गाऊं ए माय।

मीराके प्रभु गिरधर नागर, रज चरणनकी पाऊं ए माय॥

Pain laced her soothing voice, and a wide range of emotions poured into her songs. Her songs enchanted the villagers returning homes as they sat listening to her losing track of time. They gathered in and around Dwarkamai listening to the bhajan's until it was pitch dark. The mesmerizing words and music flowing from the lady engrossed them. Sai Baba also sat listening to her songs leaning on His bolster, while Mahlasapati and Tatya Kote Patil listened with rapt attention. Finally, the sweet mesmerizing voice and the fingers playing Ektara stopped as the lady went into an emotional trance, but her voice echoed in listeners' for long. The lady then came out of the trance at late night, Baba blessed her and said, "See, that school is vacant, go there and live".
Some years after Sai Baba came to Shirdi, educating kids of the village was done in a vacant cottage opposite Dwarkamai. Madhav Rao Deshpande, alias Shama, who was attracted to Baba and became his disciple, used to teach in the school. He often visited Dwarkamai to share puffs of smoke with Baba, which allowed him to build a relationship with Baba. Later on, the school moved to another location; however, girls' school was still conducted in the same school as Dwarkamai, which was closed later on. The lady then occupied that cottage, and it got transformed into "Meera's holy place".
Sundarabai's love and devotion towards Radha Krishna were unfathomable, and for the same reason villagers of Shirdi started calling her "RadhaKrishna Maai". Baba used to call her "RadhaKrishni". On the very first day of her arrival in Shirdi, she had called herself as "Mand Abhaagan, Param Abhaagan", so Baba at times used to call her "Avdasha" (meaning – a female whose condition is not good). Eventually, everyone forgot her original name, and she became famous as "RadhaKrishna Maai."
Vinny Maa has shared a very interesting video about RadhaKrishna Maai's life, which is shared below. Please feel free to share this post with your friends and family and also subcribe to the youtube channels (links provided at the end of the post)
Source: Translated from Sai Sarovar
Next Post: Services of RadhaKrishna Maai In Shirdi
© Shirdi Sai Baba Life Teachings and Stories – Member of SaiYugNetwork.com