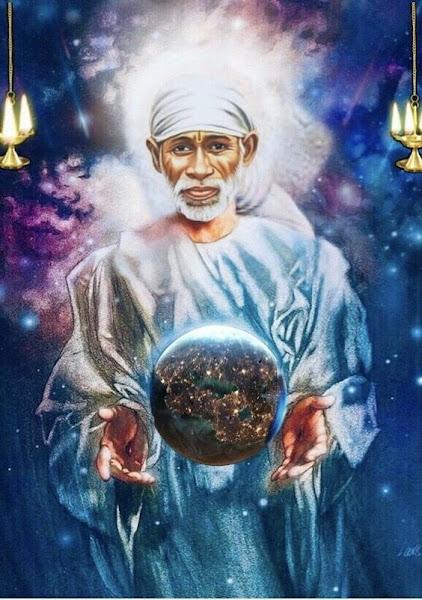 Malanbaai lived in Satara district. Her father Damodar Rangnath Joshi had passed away and she used to live with her mother. She then got fever which developed to tuberculosis. When no remedy cured her, she resorted to Sai Baba's Udi. Still there was no improvement. She expressed her desire to visit Shirdi, in a hope that having Darshan of Baba will help her get rid of the disease. She had full faith in Baba that with His mere Darshan, Merciful Baba will cure her ailmnent.
How to reach Shirdi was a big question for mother and daughter without anyone's support. On the other hand, she was too weak for the journey. Her mother alone could not manage all the hardships on the way all by herself. So she asked for help from her sister and her son Vasudev. The four set to Shirdi and on reaching Shirdi they went to Dwarkamai and had Darshan of Sai Baba. Malanbaai was hopeful that all the penance and sacrifices of her past and present birth will be fruitful by just a look of Holy Feet of Baba. On the contrary, seeing Malanbaai, Baba got raged with live embers in His eyes. Every moment His anger was increasing and reaching to the heights of mountains.
The way Krishna destroyed evil in the battle field by blowing counch in Mahabharata, same way Baba used to destroy troubles and calamities of His devotees with His anger. He said to her mother, "Do not give anything else than water to her. Take her to Dixit Wada and she can sleep only on one blanket". Receiving such strange instructions from her only hope i.e. Baba with regards to Malanbaai's health, her mother and aunt started crying profusely. They felt that their daughter's future is in dark when they got unexpected medical advice from Baba. They fell in His Feet and begged for the wellbeing of their girl. As per Baba's instructions, Malanbai was taken to Dixit Wada and all the other foods were stopped. She was made to sleep on only one blanket. Day by day her condition worsened instead of improving. Her mother felt very helpless just as a tree fell on them under which they came to take shelter.
February 14, 1912, early morning Baba was sleeping in Chavadi. Devotees gathered, did Kakad Arti, arti finished at other temples, sunlight seemed to be welcoming the day, but Baba did not open His Eyes. All the villagers became sad when He did not wake up as usual. This was a matter of utter surprise and dismay for all.
Suddenly cries were heard from Dixit Wada. Two women were crying with shouts and deep pain. They were Malabaai's mother and aunt. Malanbaai had passed away. Her cousin that gone to village market to buy necessary items for her last rituals. Meanwhile Baba turned side in Chavadi and opened His Eyes. He was again in the rage of anger, started blowing His Satka in three directions i.e. east, north and south, as if He was wrestling with some invisble power. To the surprise of all present devotees, He did not return to Dwarkamai, but started running towards Dixit Wada still wrestling and blowing His Satka in the three directions. He stopped where Malanbaai was laid. Her respiration started and she woke up looking very scared. She woke up and straight away went to Baba's Feet and started crying. She said, "O Mother, a dark man was taking me away, so i screamed in Baba's name to help me. Baba immediately came running and hit dark man with His Satka with all force and saved me. Later He took me to Chavadi which is made of black stones". Since Malanbaai was sick she has not gone to any other places in Shirdi except Dwarkamai and Dixit Wada since the time she came to Shirdi. Still she described Chavadi accurately.
Baba could have blessed Malanbaai on the very day when she came to Shirdi and took her disease away. But He allowed her to suffer a little more to ward off all her bad karma in one shot. Such was the love of Baba for His devotees. He not only looks after physical and mental wellness, He is more keen on nullifying effect of bad karma of past and present birth and spiritual upliftment of His devotees.
Source: Translated from Gujarati Book "Sai Sarovar"
---
Suggested Reading:
© Shirdi Sai Baba Life Teachings and Stories – Member of SaiYugNetwork.com