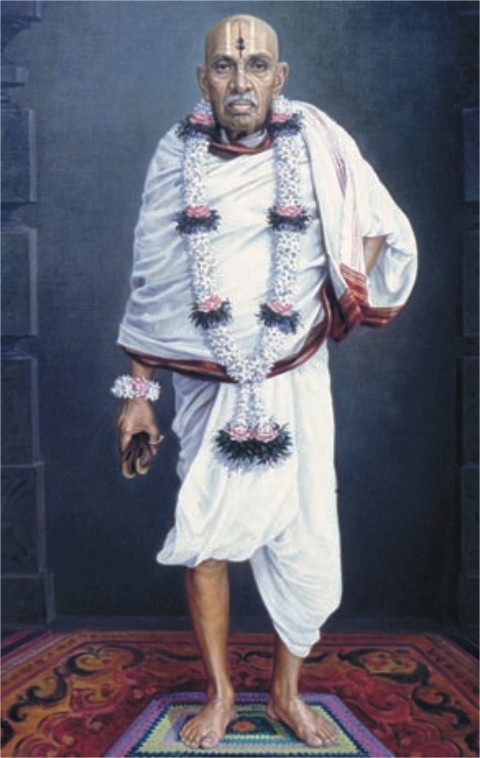 On the auspicious day of Pausha Shukla (Shudha) Ekadashi which is also known as Paush Putrada Ekadashi, we are celebrating the birthday of Mahabhakta Sant Kavi Das Ganu Maharaj by dedicating a series of posts. This year the Ekadashi is on January 12/13th (varies based on location). This Ekdashi happens to be also the Vaikuntha Ekadashi day this year. So it's two Ekadashis falling on the same day. Indeed a great occasion!
Today's post is the first post in the series. How Sai Baba motivated us to start this series is Leela in itself. I was working on publishing Chapter 9 – Dissemination from the ShirdiChe Sai Baba book which is about Sant Das Ganu Maharaj and at the same time Sai Sevak Rohit ji got motivation from Baba to write about Sant Kavi Das Ganu Maharaj on the occasion of birth anniversary. We both had a chat regarding this topic and were surprised by this Sai-incidence how Baba was already setting up the stage to start this new series. Sai Baba, the master planner, knows the right timings when to start anything on blogs of Sai Yug Network.
Before going into the life story, we would like to highlight some ways in which all devotees can pay their tributes to Sant Kavi Das Ganu Maharaj
Ways To Pay Tribute
Reciting Sri Sai Stavan Manjari which was composed by Sant Das Ganu Maharaj.  
Singing "Sai Reham Nazar Karna" and "Reham Nazar Karo Ab More Sai" compositions of Sant Das Ganu Maharaj which are part of Baba's Kakad Aarti.
Reading Shri Sai GuruCharitra 

Sri Sai Guru Charitra is a biography on the life of Sai Baba of Shirdi, written by Sant Kavi Das Ganu Maharaj. Sant Kavi Das Ganu wrote three books on different saints, in which he devoted four chapters to Sai Baba. These books are called 'Bhakta Leelamrita', 'Bhakti Saramrita' and 'Sant Kathamrita'. The four chapters have been combined into one book, under the title of "Shri Sai Gurucharitra", and were translated into English in 1949.

Listening GURUPATHACHE ABHANG by Sant Kavi Das Ganu Maharaj
Stories about Dasganu Maharaj Translated from the book Sai Sarovar
Police Turned Into Poise
Dasganu Maharaj, as we all know him, was originally named Shri Ganesh Dattartreya Sahastrabuddhe. He was not much educated, but was very clever at debates and could compose poems spontaneously. His speech was mesmerizing and his voice was very soothing. Even though he was bestowed with such a talent, he was only interested in Lavani (a type of Maharashtrain folk dance in which the message was conveyed with dance and acting). He also sang Bhavaai (another kind of folk song). He belonged to Nanded, but he was posted at Dhuliya (a town of Mumbai state, then) and he discharged his duties from Jamkheda village.
Daytime he used to perform his duties and night he will be busy in Bhavaai, Laavani, Kawaali, drama and lived a limelight life. Those times, the borders of Mumbai and Nizam Hyderabad were joined and a dacoit named Kaanha Bhil had created great trouble for people. He had accumulated many weapons, killed a lot of men, injured many poor and innocent people, tortured women and did all the criminal activities, still, he was not caught. People were fed up with such criminal activities going on. Mumbai and Hyderabad authorities had declared prizes of huge cash for anyone who helps them in arresting the criminal, but none succeeded to date.
If any person tipped off the police and if Kaanha comes to know then he will kill the person and the police then and there, such was his cruelty and thus it discouraged the British police to take any strict actions against him. However, it is to be noted here that if any group looted away a village that would be their last loot as Britisher police will get away of them sooner or later. Still, Kaanha was not to be arrested and put behind the bars. The terror of this dacoit had spread in such a way that none from the village will take any action against him or inform the police of his presence there. In fact, they safeguard him with all the fear of his killings and made him a sort of king.
Eventually, it was decided by the Government to appoint a special team for this task. Notice was sent to police headquarters to search for courageous and intelligent police officers. Dasganu was working under a Muslim officer in Jamkheda village. Both had a lot of differences and the officer would always be in search of an opportunity where he can put Dasganu in difficulty. The notice to form a special team meant a chance for the officer to get rid of Dasganu. He recommended his name and added in the note that, "If Ganpat Dattatreya Sahastrabuddhe is selected for this mission, he would complete it with all the courage and wit".
Dasganu got upset about getting the order from the Government as a team member for such a dangerous mission. He couldn't sleep that night. All his organs got froze. To escape the tough job he applied for leave, got recommendations for transfer from other officials, etc. He tried all means to reverse the orders for him but nothing worked and he landed up in Ahmednagar as a part of his official duty.
The government had received the news that Kaanha bill was hiding in the valley of mountains of a village named Loni which was located in Hyderabad district. The dacoit has good relations with the head of that village. There was an isolated path surrounded by bushes behind the temple of Lord Ram on the village borders which led to the valley of the mountain range. Kaanha Bhil would use that path to enter the village and return to his dwelling.
Dasganu had a special interest in drama and Bhavaai. Due to this liking, he was able to compose poems and stories on the spot. He could enact any character without any effort. Dressed up like a Ram Dasi he reached that Rama temple. He carried Jnaneshwari and Dasbodh in a bag. The temple was on the outskirts of the village on the bank of the river so it was deprived of human attention. When Dasganu came to the temple, it was in bad shape. He put in efforts to clean and make it a place to live in a few days. He would bathe in the river thrice a day. He will walk into the woods to bring red flowers for the Lord, sing arti three times a day, chant Vishnu Sahastranamavali twelve times in the morning, read the books that he carried and thus pass his days in worshipping God. He would cook for himself with whatever was available there. Also, he would be vigilant towards the task he was entrusted with. It seems as if the good deeds of his past birth were paid off and he experienced bliss in service to God. He landed up in that temple for the sake of his responsibility. The dacoit wasn't found, but he found God, Pandurang and Sai. He found the purpose of his life there.
This one particular incident changed his life forever and we shall continue to translate the life of this prominent devotee of Sai Baba in our upcoming posts.
Source: Translated from Gujarati Book Sai Sarovar
---
About More Devotees
One chant and a comment from you can make a difference to a mass prayer for protection of Humanity from covid, please check this post on our prayers blog to start the beginning of the end
© Shirdi Sai Baba Life Teachings and Stories – Member of SaiYugNetwork.com