Dasganu Maharaj was a very close and intimate devotee of Sai Baba. Sai Baba wanted him to leave his job as police and be with Him always. But Dasganu was greedy and stubborn by nature and so he decided not to leave the job. Sai Baba knew about the past,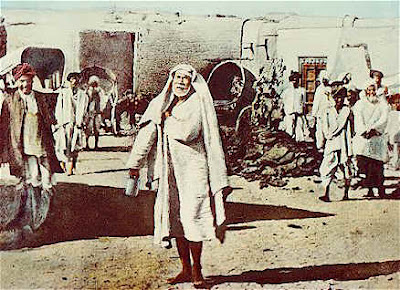 present and future. He knew the bad consequences if Dasganu continued his job. The following story tells how Sai Baba pulled the wires and made Dasganu leave his job.
Once Dasganu went to pilgrimage without taking permission from any authority. Afterward, he realized that he did a mistake by not informing anybody, as he was not allowed to go outside the main police station without permission. He there and then took a vow that if he was not troubled in this matter, he would leave his job.
When Dasganu rejoined, a team of thieves were arrested from a ne
arby jungle. He immediately got a good excuse, that he will tell the authorities that he suddenly got the news regarding the thieves and thus he could not inform anyone of his absence from duty. In this way, Dasganu postponed his early retirement from service as ordered by Sai Baba.
Dasganu then gave an interview for the post of sub-inspector. He passed in the interview. Thus Dasganu got a promotion and dropped the plan of leaving. Now he was transferred to another place as per the rule of government. He was going to another place on a horse and Shirdi came in the way. He thought if I go for darshan of Sai Baba then He will again ask me to leave my job. So I must go straightway without halting and engaging in those silly talks and excuses.
Sai Baba is omnipotent and knew everything. If a person goes in heal and thinks something his thoughts are not hidden to Sai Baba. As soon as Dasganu reached near Lendibaug than Sai Baba caught the rein of the horse. Dasganu immediately landed off the horse and bowed in the Feet of Sai Baba.
Sai Baba caught hold of the wrist of Dasganu and took him to Dwarkamai. He scolded Dasganu and reminded him of the various vows which he had taken. Dasganu assured Sai Baba that he would give resignation once he took charge of the sub-inspector that time.
Sai Baba threw a dart on him and said, You wait for some more time. You don't obey my words, when you will be caught in a big difficulty then you will understand. You do not know the importance of My words, it will repay you afterward.
Now Dasganu took charge as sub-inspector. After a few days, an inspector serving under his power received compensation for punishment from a person. He was supposed to deposit the amount in the treasure of the government, but he kept it with himself. Dasganu, as was on superior post, got caught in the scandal. He was suspended from his job. He had to now cry for his deeds and thus was reminded of His beloved Deity Sai Baba.
Dasganu came running to Shirdi and fell at Babas feet. He asked for forgiveness from Sai Baba and he got Baba's forgiveness. With tears in his eyes and with the low voice he started singing his very popular composition.
Rehem Nazar Karo Ab More Sai
Tum Bin Nahi Mujhe Maa Baap Bhai,
Main Andha Hu Banda Tumhara, Main Andha Hu Banda Tumhara,
Main Na Janu Allaah Ilaahi……..Rehem Nagar Karo
Khali Zamana Maine Gavaya, Khali Zamana Maine Gavaya,
Saathi Akhir Ka Kiya Na Koi……..Rehem Nagar Karo
Apne Mashid Ka Jhado Ganu Hai, Apne Mashid Ka Jhado Ganu Hai,
Malik Hamaare Tum Baba Sai……..Rehem Nagar Karo
And quickly he composed another poem
Sai Rehem Nazar Karna, Bachchho Ka Palan Karna……..Sai Rehem
Jana Tumne Jagat Pasaara, Sab hi Jhoot Zamana……..Sai Rehem
Main Andha Hu Banda Tumhara, Mujh Ko Prabhu Dikhlana……..Sai Rehem
Dasganu Kahe Ab Kya Bolu Thak Gayi Meri Rasna……..Sai Rehem
(These two ghazals are sung every day in Samadhi Mandir in Shirdi during Kakad Arti)
Now Dasganu left his job and got another job of spreading the fame of Sai Baba to which he did complete justice.
Source: Translated from Gujarati Book "Sai Sarovar"
© Shirdi Sai Baba Life Teachings and Stories