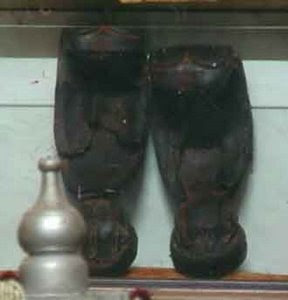 15 Mar 2009, 1721 hrs IST, PTI
http://timesofindia.indiatimes.com/Cities/Kolkata-Saibaba-sandals-worshipped/articleshow/4267770.cms
KOLKATA: Thousands of people got a glimpse of leather sandals of the Saibaba of Shirdi during a special puja of the seer held at Nazrul Manch here.
This was the first time a pair of the Saibaba's 'padukas' were brought outside the main temple for public viewing as part of Shri Chavdi Poojan Centenary Mahotsav, said Ashok Khambekar, member of Shri Saibaba Sansthan Trust.
Devotees from Nepal, Siliguri and eastern India stood for hours in long queues to have glimpse of the sandals placed on a bed of flowers in a glass box, said A K Jaiswal, head of the organising committee for the puja.
The congregation and puja mark the centenary celebration of Saibaba's visit to Chavdi from Dwarkamai temple on December 10, 1909.. This was the fourth such congregation held here after Goa, Lucknow and Raipur to mark Saibaba's visit to Chavdi.
Similar programmes would be held in Hyderabad, Bangalore, Itanagar, Darjeeling, Nepal, Sydney, New York, London and Tanzania, Khambekar said.
Click for More Details of Sai Baba Paduka Darshan

© Shirdi Sai Baba Life Teachings and Stories