There is always a deep urge to go to Shirdi in the heart of a true Sai Devotee. No matter what are the circumstances or which time of the year it may be, I always feel blessed if I am called to Shirdi. I am always waiting to go to Shirdi like a Chatak bird who waits for the rain to shower. In my opinion by visiting Shirdi we get the fruits of going on pilgrimage to four dhaams. Though Sai Baba is not seen in bodily form in Shirdi now, still His breath is present in the air of Shirdi. There is no end of longing for Darshan of Sai Baba in Shirdi. But only those go, who get Baba's call. Like last year, this year too I had a golden chance of celebrating Diwali in Shirdi with my parents, brother and cousin. I would now narrate a fuller account about my Shirdi Trip. It is very much for sure that Baba had planned every second of our trip and gradually I realised that all the links were connected. Why I sat to write about the trip after one and half month, I am unable to understand or explain. It was Baba's direct order to me.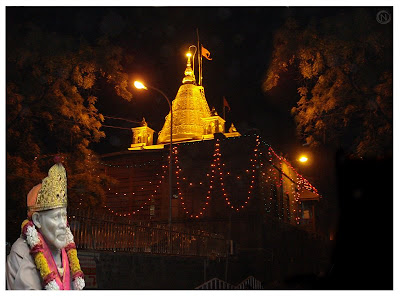 Series of situations follow before and on going to Shirdi. Outwardly they seem to be normal happenings, but they are real miracles if thought deeply. Such situations followed us too before leaving for Shirdi. Baba took very much care from booking tickets to reaching Shirdi. We reached Shirdi on Diwali day i.e. October 28, 2008 at about 10:00 am. After refreshing ourselves we left for Samadhi Mandir at 11:30 am. Since it was time for Noon Arti and there was a long queue, we decided to first have lunch and then have darshan at leisure. I was reminded what Hemadpant had said in Sai Satcharitra "God is not attained with empty stomach" at that time.
Shirdi Sansthan has made very good arrangement for participating in Laxmi Pooja on Diwali day. Devotees who wish to participate in Laxmi Pooja have to submit a sealed envelope with his/her name, address and contact number in the hall adjacent to Mukh Darshan. So my father went to submit the envelope and there was a long queue. We four of us were waiting outside the exactly in front of the main exit gate of Samadhi Mandir. My brother was thirsty so he asked me accompany him near water tap. While he was going to drink the water, a security guard came and told us to go near Lendi Baug since the water was not cool and we may not like it. So went towards Lendi Baug and drank water. We also took Udi packets and started for the place where my mother and cousin were seated. We had to pass near Mukh Darshan and I stopped and got preliminary darshan of Baba. I was really surprised (rather happy) to see my Baba dressed in pink shawl. I request the readers to read another write up related to significance of pink colour and Baba's gift to me from here and to my surprise I was in the same pink dress!!! I was at once confirmed by Baba that it was None Other than Baba who had sent me that gift. This made me eager to go and meet Baba.
After repeated requests, my mother allowed me and my cousin to go in Samadhi Mandir alone. We just ran towards darshan gate and I wanted to buy four bouquet of roses for offering on behalf of four special persons. The vendor was willing to give me three bouquets for Rs. 10 but I said that I wanted four and he gave me readily without any arguement. I just rushed inside not minding my cousin left far behind me for paying money for bouquets. Though Baba was few metres away from me, it seemed to be large distance. So I tried to run as fast as I could and finally reached the main hall. Ah! Such a giant look of Baba I had! I looked at Him and felt as if He was smiling slightly and welcoming me. While standing in the queue I was in tears. I was thinking that Baba called me after one long year but gave me such a blissful darshan. I was speechless and was just gazing at Baba continously. There was pause in the moments of my legs but the flow of emotions was going on. I forgot the world outside and wished to climb the steps of Samadhi and sit in Baba's Charan Kamal. When my turn came I stood in front of Samadhi in a corner near Hundi and passed on few prayers which my Sai Brother and Sisters said me orally. I could remember nothing other than this!!! The security guard did not even asked me to finish off quickly, instead he requested to stand in a corner and make room for others to go. My cousin was behind me and we both stood there without uttering single word. Ten minutes passed by thus and we decided to leave. I did not want to loose a single second's sight of Baba so I started walking backwards. My cousin said me that my parents and brother were seen in the queue. I quickly joined them by crossing the rods. The same was done by my cousin hesitatingly. Again we had a wonderful darshan and left Samadhi Mandir highly satisfied. We then went to book stall of Sansthan to purchase Sai Satcharitra. We were proceeding towards Nand Deep and we saw our family friends coming towards us. The lady and her mother in law were going for Darshan and we all accompanied them on their recommendation. Once again we got a chance of Darshan. Thus for two hours we were in Samadhi Mandir in front of Baba. Today while so many devotees are turning up to Shirdi, they is no possibility of having Baba's darshan so easily, but Baba made it possible for us and this shows His grace and care. We did not even stand for half an hour in queue to have darshan. Baba drove us straight way and it seemed as if He had made VIP arrangements for us.
In the evening my family members and family friends were drawing rangoli and lighting lamps near Nand Deep as per the tradition. The crackers were bursting continously at their fullest capacity. The sight of colourful rockets made the sky shine brightly and also Shirdi was shinning with lamps and lighting all over. There seemed no difference between the sky and earth. Oh what a heavenly sight it was!!! Soon after that there was again flow of emotions and fulfillment of one more wish of mine. This has been posted as soon as I returned from Shirdi. I request readers to read it from here, to avoid this write up becoming too lengthy.
When I returned back my mother with our family friends were waiting. We all wished to go for Darshan but were not sure about the crowd. It was about 8:30 pm and since kids of our family friend are young, we were discussing whether to go inside or not. We did not notice any security guard listening us. He heard us speaking in Marathi and so he said us in Marathi that Mandir was vacant and we should go in. The glass cases around Samadhi were removed at that time and we had the fortune of touching Samadhi which passed wave of happiness in the hearts of all of us.
The next day we had no plan to go to attend Kakad Arti since we had pleasant darshan on Diwali day. I was awakened just few minutes before the Kakad Arti started, the reason being I had stomach ache. I could bear it, so I did not bother to wake my mother and just then Kakad Arti started. I heard whole Kakad Arti and at about 6 am when everything was silent as before I fell asleep. After one hour my mother woke me up and to my surprise the stomach ache had disappeared!!! In afternoon while we were searching where to submit Vastra for Baba, we came near Samadhi Mandir and asked a security guard. He directed us the way and also told that it was lunch time and the concerned official will return till 4 pm. So we thought to go to Samadhi Mandir and again we were informed by security guard that Mandir was vacant and we should go without wasting a single minute. Thus we got pleasant darshan once again without any push or pull. Drawing rangoli during Diwali in front of our houses is considered as an important ritual during Diwali as per Maharashtrain tradition, we were at Baba's home so we thought why not here also we draw rangoli outside the hotel, since it was our home and Holy Land of Shirdi. In the evening after taking permission from hotel authorities, we wrote 'Sai Teri Leela' with rangoli and arranged various lamps in the shape of a lamp as only Sai's Leelas were seen since we reached Shirdi and it is one of my favourite bhajans. I am attaching the snaps of the rangoli and lamps.
Next day being Thursday and festive season devotees flocked like ants and every where devotees were seen. It is our practice that we offer everything we eat to Baba right from morning tea. As we were in Shirdi since two days, we decided to offer tea to Baba in Dwarkamai. Due to crowd we had to stand in queue for two long hours and by the time we reached in Dwarkamai hot tea became cold. Still the security guard allowed us to come forward not minding others and asked us to offer tea to Baba. Baba who is Loving God cares only for our feelings towards Him and longs for our love. We know very well that the cold tea was accepted by Him readily. We had pleasant darshan for two long days so we decided to leave Shirdi the same evening. Before ending let me list down few situations which are worth thinking and proves Leela of Baba.
1. Had my brother felt thirsty and had not the security guard asked us to go near Lendibaug, I could not get darshan of Baba through Mukh darshan and my heart would not felt urge to go quickly for darshan.
2. Had not that security guard advised us to go inside Samadhi Mandir, we wont be able to touch Samadhi of Baba.
3. Had not again the security guard advised us the next day, we could not get such a peaceful darshan.
4. If my stomach not have ached, I would not be able to listen Kakad Arti. Seeing all this, I really felt that Baba had planned each second and my heart spoke up Sadguru Sainath Maharaj Ki Jai Ho!!!

© Shirdi Sai Baba Life Teachings and Stories