Sai brother Kouwshigan ji has been making exquisite wallpapers of Sai Baba with digital art. Today he has sent wallpapers to wish Sai Family "A Very Happy and Blessed Thursday". Below is his mail and wallpapers for download.
Sairam Dear Sai family,
I am happy to offer the lotus feet of of our beloved Baba some wallpapers created for THURSDAY, Baba's day, and like to share with you all. You may use & share these wallpapers with your sites & blogs visitors.
Note: © 2009 Graffixx Solution. All rights reserved. No part of this document may be reproduced or transmitted in any form or by any means, Electronic, mechanical, Photocopying, recording, or otherwise, without prior written permission of Kouwshigan, Graffixx Solution.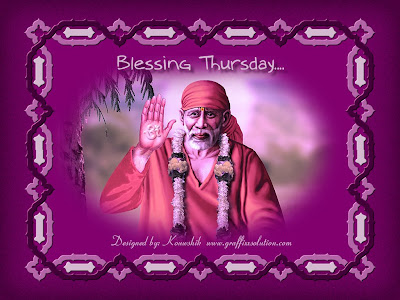 Click on the pictures to download in original format.

© Shirdi Sai Baba Life Teachings and Stories