Sai brother Rohit has been inspired by Lord Sai Baba to sum up few celebrations which has led him to share this beautiful write up. He gives all credit to Lord Baba for this inspiration and wishes many devotee of His comes up for active participation.
[line]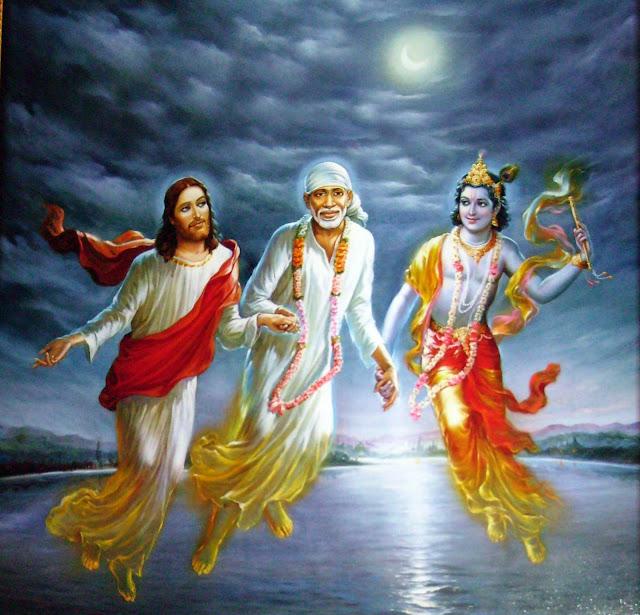 2018 has been amazing year for all Sai devotees. We all are fortunate to be living in this age to witness centenary celebrations of our beloved Shirdi Sai Baba. With the dedicated efforts of volunteers across the globe and wonderful team of SaiYugNetwork many spiritual undertakings have started (MahaParayan, Anant Akhand Sai Mahajaap, Hanuman Chalisa – The Longest Garland, Vishnu Sahastranamavali Parayan Of Shraddha And Saburi , Annadanam Seva and many more) which are sending positive vibrations all over the world. We all are well connected and feel member of a global Sai family.
As we are approaching the end of the year, Sai Baba has given another amazing opportunity to celebrate a series of auspicious days
Vaikuntha Ekadashi (Dec 18th)
Shri Sai Baba's Nirvikalpa Samadhi on Margashirsha Purnima ( Dec 22nd)
Shri Guru Dattatreya Jayanti on Margashirsha Purnima (Dec 22nd)
Christmas Day (birth of Jesus) (Dec 25th)


Each of mentioned day above has very important significance.
On the day of Vaikuntha Ekadashi, gates of Vaikunta Dham are open to all devotees. Sai Baba is one with Bhagwan Panduranga and Baba always encouraged devotees to read Vishnu Sahasranama.
Margashirsha Purnima is very significant especially for three reasons – Shri Guru Dattatreya Jayanti, Shri Sai Baba's Nirvikalpa Samadhi and one of the most auspicious Purnima as Lord Moon was blessed with Amrit on this day. Shri Guru Dattatreya is the incarnation of the Trimurthis (Brahma, Vishnu and Shiva) and Sai Baba is avatar of Dattatreya. Hence Datta Jayanti is dear to all Sai devotees. Another significant event happened on Margashirsha Purnima. On this day, Shri Sai Baba took "Nirvikalpa Samadhi" for 72 hours. In Chapter 43 & 44 of Shri Sai Satcharitra, Shri Hemadpant has mentioned 72 Hours' Samadhi of Sai Baba and how Bhagat Mhalsapati protected body of Sri Sai Baba for 3 days.
Christmas (Dec 25) is celebrated to remember the birth of of Jesus Christ. Sai Baba is one with Jesus. Hence this is day is equally important to all devotees.
Celebrating the Grand Week (Dec 18-25)
Naam Jaap
During the entire week, all are encouraged to perform naam jaap in any possible way. Here are some ways, everyone can perform this.
Dec 18th: Vishnu Sahasranama Chanting , Hare Krishna Mantra (or any mantra) Chanting
Dec 22nd: Recitation of Chapter 43 & 44, Sri Sai Satcharitra
Dec 22nd: Naam jaap (108 times of any mantra – Digambara Digambara, Jai Jai Sai Ram , Sri Guru Datta Mantra, Hare Krishna etc)
Dec 25th: Listen and sing prayer/bhajans which represents that all forms are one. For example, a beautiful bhajan below shows how is Sai Baba is one with everyone.
Sai Baba Tera Naam, Shirdi Sai Tera Naam, Sathya Sai Tera Naam
Tu Hi Brahma Tu Hi Vishnu
Tu Hi Nanak Tu Hi Yesu
Sab Hey Sai Bhagawan
Tu Hi Buddha Tu Zohrashtra
Tu Hi Allah Tu Mahavir
Sab Hey Sai Bhagawan
Sab Hey Sai Bhagawan

Sai Ram Sai Ram Sai Baba Tera Naam
Allah Sai Tera Naam Maula Sai Tera Naam
Yesu Sai Tera Naam Buddha Sai Tera Naam
Sai Baba Tera Naam Sai Ram Tera Naam
Narayan Seva (Annadanam Seva & Warm Clothes Seva)
We encourage all to perform seva in any possible ways during the week. Sai Baba has said – "Give food to the hungry, water to the thirsty and clothes to the naked, Shri Hari will be pleased". Hence all can perform Annadanam Seva in one's capacity either by donating or even just cooking food for one or serving animals & birds and plants. We never know in what form Shri Guru datta (Sai Baba) can come and accept Bhiksha.
Considering its start of winter in most part of the world, so one can give warm clothes & blankets to needy. One must remember that our Sai Baba has taught us to perform seva with pure heart without ego of considering ourselves as doer. Sai Baba is the doer. Any seva performed must be done without any discrimination (caste, religion etc) and open for all living beings & creatures.
Shri Sai Satcharitra & Shri Guru Charitra Parayan
During this week, one can undertake parayan of Shri Sai Satcharitra and/or Shri Guru Charitra. One can consider doing this as individual or form a group to perform Parayan.
To assist devotees, we will be helping devotees to connect with other devotees and forming one time whatsapp group to perform parayans during this week.
Ways to participate
Anything one would like to perform during the week is one's commitment with Baba. Hence there is no reporting required on naam jaap, parayan at individual level or service during the week. Baba is the controller of the universe and guide for everyone.
Those who are interested in doing Parayan of Shri Sai Satcharitra or Sri Guru Charitra would in a group, please join WhatsApp group. Please mention your name, phone number, location and Parayan you would like to do (e.g. Shri Sai Satcharitra Parayan, Shri Guru Charitra Parayan) . This WhatsApp is temporary group and actual groups will be formed in 2-3 days.
Motivation of these celebrations have come from the blessings of Sai Baba and post of Hetal Ji about Sai Baba's nirvikalpa samadhi. Thanks to Hetal ji, team and all volunteers who help us learn more about our Baba.
© Shirdi Sai Baba Life Teachings and Stories – Member of SaiYugNetwork.com