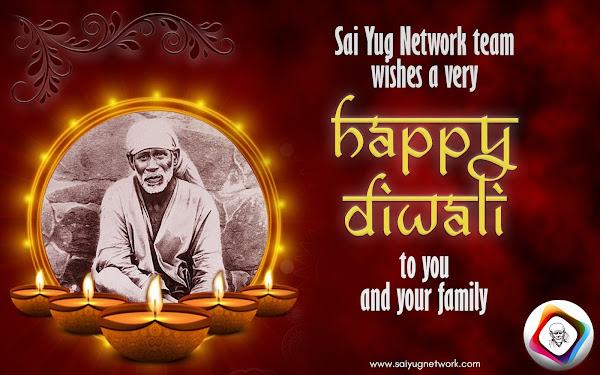 Devotees of Sai Baba are very well aware of the Leela of Lighting Lamps With Water on a Diwali day. In this post, we are looking into why Baba did this miracle and what message He had for His devotees at large.
Before we start the post, let's check in detail the miracle of Sai Baba of turning water into oil for lighting lamps.
Sai Baba is very fond of lights. He used to borrow oil from shopkeepers, and keep lamps burning the whole night in the Masjid and temple. This went on for some time. The Banias, who supplied oil gratis, once met together and decided not to give Him oil. When, as usual, Sai Baba went to ask for oil, they all gave Him a distinct No. Unperturbed, Sai Baba returned to the Masjid and kept the dry wicks in the lamps. The banias were watching Him with curiosity. Sai Baba took the Tumrel (tin pot) which contained very little (a few drops) of oil, put water into it and drank it and forced it fall in the container. After consecrating the tin-pot in this way, He again took water in the tin-pot and filled all the lamps with it and lighted them. To the surprise and dismay of the watching Banias, the lamps began to burn and kept burning the whole night. The Banias repented and apologized. Sai Baba forgave them and asked them to be more truthful in future.
Sai Baba, a Siddha Purush, ascended on this earth to help to roam souls to attain their destination. His mission was to spread the light of knowledge in humans with simple and unique acts. Though He resorted to humane actions, they were considered miracles by normal humans. However, I can see that there is a deep hidden meaning in the above incident which I am going to put forth in this post. Hope you all will agree with me after going through what I deciphered.
Sai Baba, The Sadguru, lived in an old dilapidated mosque and begged for alms from a few houses in Shirdi. To burn lamps for lighting lamps in Dwarkamai, He took oil on gratis from shopkeepers of Shirdi. He always gave a message to the people of Kaliyug to keep bare minimum luxuries and be vigilant to reach the destination instead of churning their efforts into acquiring and accumulating worldly pleasures. His simple way of living life conveys this message very well but very few devotees were able to understand this and move forward.
It was a Diwali day, Baba wanted to light up Dwarkamai. So as usual He went to the shopkeepers to get oil. He is trying to convey to us that whatever we plan to do, happens only if we put effort into it. For Baba, it was not necessary to go to acquire oil, but by doing so He tried to convey to us to put effort to achieve anything – material or spiritual. Without our own efforts, we can't reach our destination. We should be ready mentally to take the steps required for any action without any doubts in our minds. Did Baba as A Parabrahma not know that He won't be getting oil that day, still He went on around to get it. Spiritual endeavors also start by taking baby steps which means putting in the effort. Baba came on this earth, in Shirdi, to guide and direct us, but it's us who have to take the first step and put in the effort.
The idea of any activity occurring in the mind leads it to its execution. Thus the very idea becomes a person's (soul's) karma. It's not the action that will be called Karma, it's the idea itself. So we have to be careful even in our thoughts for our karma to be clean. For e.g. a sincere devotee of Sai Baba will be a kind-hearted fellow. He will have a sweet tongue and good behavior. But at times he can't stop himself from thinking bad about others, even though he won't do any wrong to anyone. So in this case too, he is creating bad karma for himself just by thinking wrong about others. If the thoughts are so strong, to lead us to Karma, we should put in our efforts to the thoughts before conceiving them in our minds. Our efforts can make a lot of difference. Putting in conscious efforts in worldly dealings as well as spiritual ones will help us reach the destination which Baba has shown.
Download Sai Baba Diwali Happy Diwali Wishes Greetings
Baba then by turning water into oil, burnt lamps in Dwarkamai which kept burning the whole night, thus making the Diwali day, a night full of light. If He didn't want to set an example to His devotees He would have done this act before going to the shopkeepers even previously and started burning lamps with water. An act that is a simple one for Him but a miracle to us, was not at all necessary to be done. To show up a miracle Baba can light lamps even without water just by a glance and a command to nature, without even moving an inch. He showed us how putting in the effort can change a simple thought into karma.
The lamps were also an instrument for Him to convey the significance of being light to others. When we are born with intellect why should we waste it for survival goals and restrict our efforts to ourselves? He should be active in putting in our efforts in a manner where we can light another lamp and it absolutely doesn't matter if we are burning with water or oil. The idea of being a lamp in someone's life is karma in itself. When such an idea crops up in us, the lamp starts burning in us and we start putting in an effort. Our duty is to keep the lamp in us burning continuously to light many others by putting in constant efforts and inspiring others to be one such lamp. We should not worry about resources (oil or water), that will be provided for by Baba. That's the real miracle that He does. Our thoughts should lead us on the path of good karma and then Baba is there to take care.
Let us on this Diwali, try to be lamps by putting in the slightest effort (water) and keep burning the idea of progressing to the Ultimate.
---
Suggested Reading: How To Observe Lord Sripada Srivallabha's Disappearance (Mahasamadhi)
© Shirdi Sai Baba Life Teachings and Stories – Member of SaiYugNetwork.com